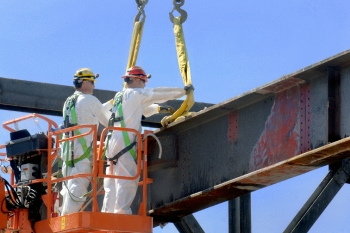 Photo courtesy of Oak Ridge
Secretary of Energy Ernest J. Moniz and Deputy Secretary Daniel B. Poneman recently issued a joint Memorandum, entitled Personal Commitment to Health and Safety through Leadership, Employee Engagement, and Organizational Learning.
"The Department's thousands of Federal, laboratory, and contractor employees work hard every day in pursuit of energy independence, global scientific leadership, national security, and environmental stewardship," said the Secretary and Deputy Secretary.  "They are the key to our success.  We would like to revitalize our efforts to protect the health and safety of our employees, as well as the health and safety of those who reside in the communities in which the Department operates or are otherwise affected by our work."
The Memorandum has been distributed to all heads of DOE element organizations as well as DOE employees. To read the complete Memorandum, click here.