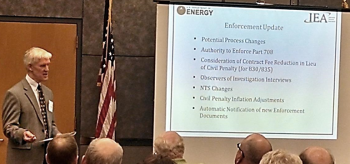 Steve Simonson, Director of the Office of Enforcement, addresses the 2014 DOE Safety and Security Enforcement Workshop attendees.
2014 DOE Safety and Security Enforcement Workshop
The Office of Independent Enterprise Assessments' Office of Enforcement convened the 2014 DOE Safety and Security Enforcement Workshop May 13 and 14, 2014. The workshop was attended by 75 Federal and contractor enforcement coordinators from across the DOE complex. The first day of the workshop consisted of training for new enforcement coordinators, with the morning session presented by the Office of Enforcement and the afternoon session presented by a representative from the Energy Facility Contractors Group (EFCOG) Enforcement Coordination Working Group (ECWG). This was the first formal presentation of the ECWG training, which was developed to help newer coordinators learn from the knowledge and expertise of coordinators with many years of experience interfacing with Office of Enforcement staff on regulatory issues. The first day was capped off by a working meeting among the workshop's Federal attendees to discuss the current state of the Department's enforcement program and identify initiatives for improving operations and communications.
The second day of the workshop provided updates in the three enforcement disciplines – nuclear safety, worker safety and health, and classified information security – through discussion of specific enforcement case outcomes and information gained in conducting assistance reviews designed to evaluate contractor processes for identifying, screening, tracking, and reporting potentially noncompliant conditions. These presentations were followed by interactive breakout sessions for each enforcement discipline in which the attendees were provided multiple scenarios to identify possible noncompliances and determine whether reporting to DOE would be warranted. 
The Office of Enforcement received very positive feedback on the workshop from the attendees, many of whom emphasized the importance of having the opportunity to interface with the enforcement staff in a setting other than during an enforcement investigation. The Office of Enforcement appreciates the active involvement of the attendees, and welcomes any suggestions on topics for consideration during future workshops.