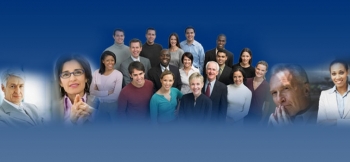 The Office of Learning and Workforce Development (OLWD) sponsors these monthly events to provide opportunities for continuing leadership development. These events are hosted at the headquarters office and broadcasted by request to executives at field offices.
The program manager identifies and coordinates speakers. Presenters are nationally known authors or professional speakers on subjects directly related to leadership, executive development or managing organizations. If the speaker is an author, a limited number of books are purchased for distribution at the presentation.
Benefits
DOE Executives and senior leaders have the opportunity to learn current management strategies for optimizing organization and employee performance. The continuing education for DOE leaders may give them ideas for improving their effectiveness and performance.
Accomplishments
During the past three years, this program has grown and is presented to an average interagency audience of 425 executives, managers and employees aspiring to leadership positions. The OLWD collaborates with area federal agencies and is co-hosting selected events.
Event Information
Time - Usually 1:00 p.m. to 3:00 p.m. (EST)
Location – Main auditorium, Forrestal building
Who may participate - Federal employees must register via email in advance using the Registration Instructions.
Events
Leadership Development Events Schedule for 2014
March
March  20 - 1:00 to 3:00 p.m. Leadership Development Series Event: "Too Senior To Fail: Five Key Mission-Critical Leadership Practices" Panel of Former Executives and Executive Coaches. DOE Large Auditorium, Video cast & Teleconference  
April
April 23 - 1:00 to 3:00 p.m. Leadership Development Series Event: "Power and Leadership" with Dr. Mary McKay, Rady School of Management, University of California San Diego. DOE Large Auditorium, Video cast & Teleconference
May
May 14 - 1:00 to 3:00 p.m. Executive Forum: DOE Large Auditorium, Video cast & Teleconference
May 22 - 1:00 to 3:00 p.m. Leadership Development Series Event "Emotional Intelligence" with OSD Chief Learning Officer, Dr. David Rude. DOE Large Auditorium, Video cast & Teleconference.

June

June  25 - 1:00 to 3:00 p.m. Leadership Development Series Event: "Getting to SES without participating in an SESCDP". Interagency Panel of Executive Resource Experts and Senior Executives. DOE Large Auditorium, Video cast & Teleconference 
July
July 24 - 1:00 to 3:00 p.m. Leadership Development Series Event: TBD. DOE Large Auditorium, Video cast & Teleconference
August
August 6 – 1:00 to 2:00 p.m. – Session 1 – Leadership 360 Assessment Program. DOE Large Auditorium, Video cast & Teleconference
August 13 – 1:00 to 2:00 p.m. – Session 2 – Leadership 360 Assessment Program. DOE Large Auditorium, Video cast & Teleconference
August 27 - 1:00 to 3:00 p.m. Leadership Development Series Event: TBD. DOE Large Auditorium, Video cast & Teleconference
September
September 18 - 1:00 to 3:00 p.m. Leadership Development Series Event: TBD. DOE Large Auditorium, Video cast & Teleconference
September 25 – Executive Forum: "DOE Director of Budget Briefing". DOE Large Auditorium, Video cast & Teleconference
October
October 22 - 1:00 to 3:00 p.m. Leadership Development Series Event: TBD. DOE Large Auditorium, Video cast & Teleconference
November
November 20 - 1:00 to 3:00 p.m. Leadership Development Series Event: TBD. DOE Large Auditorium, Video cast & Teleconference
December
No events scheduled
Other Initiatives planned but dates and program details have not been fully established:
"SES Leadership Development Program" – for organizationally selected high-potential GS-15 (or equivalent) and Excepted Service Employees. 12-month minimum-cost Executive Leadership Certificate Program.
PMC Initiative - Executive Leadership Development – "Leading Edge" – by subscription. Will include 6 executive leadership seminars, personal leadership skill assessments, participation on cross-agency Government Performance Projects, Executive Networking, post-event "Executive Learning Circles" and additional related activities
"Enterprise Leadership Development Program" for GS-13 to GS-15 incumbent and aspiring leaders
Small-group workshops for creating and implementing Executive Development Plans