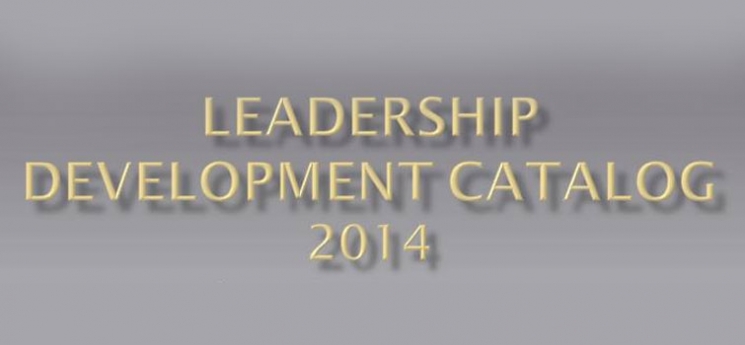 A well trained workforce is vital to the long term effectiveness of the Federal Government. As such, all Federal employees, particularly those who serve or hope to serve in senior management positions, are encouraged to take advantage of opportunities to enhance their professional skills and develop the competencies needed for success as leaders. The Leadership Development Program Catalog is indexed by the Executive Core Qualifications (ECQs)and contains a comprehensive list of training opportunities intended to assist all Federal leaders grow within these five ECQs and Fundamental Competencies.
This Special Edition of the Leadership Development Catalog is a result of end user feedback and through an increasing awareness of the opportunity to significantly broaden the base of educational institutions represented. With Fletcher Honemond's encouragement and support, we have quadrupled the number of universities and colleges to now also include institutions that are recognized for their academic excellence and support of students of minority; these include the Historically Black Universities and Colleges; American Indian Colleges and Universities; and Universities and Colleges Predominantly for Women; as well as Universities and Colleges which are noted for their support of Hispanic & Asian students, and finally Universities which have historically served students with disabilities.
This special edition of the Leadership Development Catalog provides a comprehensive list of real-time and web-linked information for more than 930 executive and leadership development training courses and seminars - nationwide - from 260 universities, colleges, OPM and private industry organizations. For each institution in this catalog, we have provided a representative list of courses and programs. When you access the institution's web site you, you will be able to determine the full range of courses and programs available for your consideration. The resources listed will facilitate your growth and development as an incumbent or aspiring leader; and will be helpful in preparing an Individual, Leadership or Executive Development Plan.
Before making final plans to register, please be sure to check each institution's website or call the contact number provided to confirm that the information is still current. (Note: Executives, managers and employees who plan to enroll in any of the listed programs and request reimbursement for same, should first check with their respective organizations to determine if funding is available and, if the requested program and their specific request meet their organization's pproval requirements.) 
Please note, the listing of these courses does not constitute endorsement of their content by the Department of Energy or any agency of the Federal Government.
Two documents are available on this download page.  Click on the icons at the bottom the page to download them.
The first document is the current edition of the Leadership Development Catalog. To make it easier for you to locate training specific to your needs, the catalog has been organized with each course matched to a primary ECQ, though many courses fit the parameters for more than one.  When you find a course within the catalog that interests you, CLICK on the hyperlink for the training institution's web pages for additional information on the course.
The second document is the Master Course Index.  All of the courses from the Catalog are listed in this searchable index.  In addition to the primary ECQ many of the courses have secondary ECQs identified.  After downloading the Master Course Index you may search by primary or secondary ECQs or by location, institution or cost.
To return back to the Leadership Development Resource Center (LDRC) click here.
It has come to our attention that there are many federal offices that, for security purposes, do not allow access to the Google environment on the Internet. In order to make this time-sensitive course and program information readily available to all, we have established two ways to access:
 If you are able to access Google from your current location, please use this link for a faster version of the catalog.
Leadership Development Catalog
If you are not able to access Google from your current location, please use the following link: