Most organizational training budgets have been decreased, and this has made it essential to determine whether the training that organizations procure is effective toward meeting mission requirements.  A group of dedicated individuals from the Office of the Chief Human Capital Officer (OCHCO) collaborated to improve the functionality of the Level 1 Training Evaluation reports managed in the Corporate Human Resource Information System (CHRIS) to allow users the flexibility to:
query multiple training sessions at the same time; and
query data on external training courses (courses attended by DOE employees but offered by external vendors). 
 
Internal course with multiple sessions: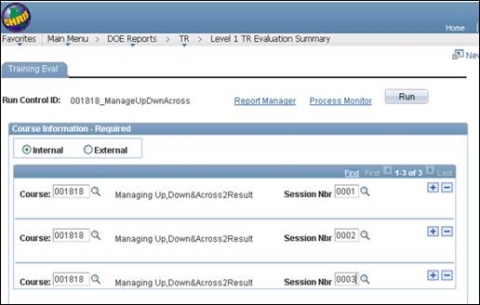 This enhanced functionality will make it easier for organizations and their designated Training Administrators to analyze course evaluations to determine if the training was valuable, and how well the instructor was received. 
Previously, anyone who attended the free training relating to the Level 1 Training Evaluation reports was able to understand that the reports provided crucial information on courses that had previously been procured.  Training Administrators were able to determine whether or not the training was valuable, and how well the instructor was received by the students.  During these previous training sessions, questions and requests arose relating to pulling multiple training sessions on one report and the ability to pull data on external courses.  At that time, that capability was not available with the CHRIS Level 1 Training Evaluation Report.
The improved functionality will allow the Training Administrators to compare multiple courses and multiple sessions on a single report rather than having to perform multiple queries to compare student evaluations.  Note:  The reports will continue to provide a summary of all individual evaluations in bar graph form, for ease of analysis and interpretation. 
Training Administrators are encouraged to check out our new and improved Level 1 Training Evaluation reports!   You can find the job aid here, Level 1 Training Evaluation Job Aid 
For more information or for a one-on-one demonstration please contact the Level 1 Training Evaluation team:
Johnny McChriston, Laura Ward, Emma Troy