The DOE Virtual University is now featuring free online courses through various educational platforms.  A variety of courses from the Online Learning Center as well as universities around the world can be audited free of charge. 
Online Learning Center (login required)
Various no-cost courses that will fulfill your training needs.  Employees can also access 13 recorded sessions of the highly attended SES Leadership Series Events!  Captions are available on all courses. (OLC is not currently supported on mobile devices.) 
Coursera (recommended use via Chrome)
627 courses available from 108 colleges.  Coursera is also viewable on tablets and smart phones (captions are available through the free downloadable Coursera on the Go app).
Class Central (recommended use via Chrome or Firefox)
Offers courses through various educational platforms and university websites.  Captions are available on smart phones/tablets as well as desktop computers.
SlideRule
Learning paths available for MBA Essentials, Data Analysis and more.  Over 30 providers with courses available from numerous universities from around the world.  Most courses are free, but some require a minimal fee.  Udemy app is available for free for use with SlideRule courses, which enhances the videos but is not required.  Courses can be viewed in any browser or on the free app for tablets and smart phones.
Government Learning Videos
Leadership development resources from other government agencies.  Currently, these links lead to videos on the HUD You Tube Channel.
Featured Videos
Energy 101: Marine and Hydrokinetic Energy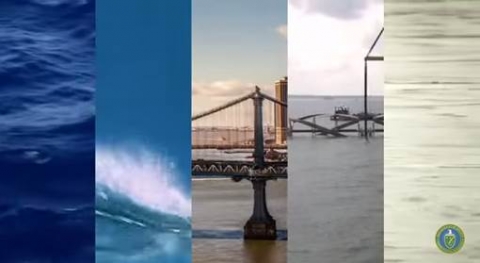 * Please note, the listing of these courses does not constitute endorsement of their content by the Department of Energy or any agency of the Federal Government.