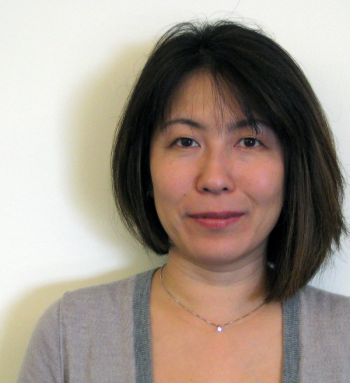 Yuki Hamada has more than 10 years of experience in remote sensing and geospatial information technologies with a focus on terrestrial ecosystem sciences.
Check out other profiles in the Women @ Energy series and share your favorites on Pinterest.
Yuki Hamada is an assistant biophysical remote sensing scientist at Argonne National Laboratory. She has more than 10 years of experience in remote sensing and geospatial information technologies with a focus on terrestrial ecosystem sciences, environmental assessments, and monitoring related to natural and anthropogenic perturbations. Her expertise extends to hyperspectral remote sensing for plants and ecosystems. She is the lead investigator in a Department of Energy-funded, long-term environmental monitoring project that aims to facilitate speedy solar energy development, and a hyperspectral remote sensing project that investigates the indicative power of optical measurements of carbon and water fluxes in ecosystems. She received her B.A. and M.S. in geography from San Diego State University, and a Ph.D. in geography from the University of California, Santa Barbara/San Diego State University.
1) What inspired you to work in STEM?
I was always curious about why certain phenomena only occur at certain locations but not uniformly across space (e.g., weather patterns, plant community distribution, and wildlife habitat occurrence). When I was studying spatial patterns of natural phenomena, I came across the science and technologies of remote sensing—satellite and aerial image collection, processing, and analysis. I was fascinated by the potential of remote sensing for gathering information about the Earth's surface, including remote and otherwise inaccessible locations, over time and space to advance our understanding of ecosystem and wildlife habitat. I wanted to apply this potential to aid the cause of speedy, smart, and sustainable energy development while protecting the environment. When I look back, I was always doing what I enjoyed, and that is what led me to my current position in STEM.
2) What excites you about your work at the Energy Department?
With a team of experts from diverse backgrounds, I work on projects that nearly always have clear end users or clients who are seeking solutions to real world problems. For example, I have been developing remote sensing methods for monitoring the environmental impacts of energy development to aid land managers and developers in the quest for early detection of and response to environmental impacts as a means of supporting sustainable energy development. I am also investigating the indicative power of hyperspectral remote sensing of carbon and water fluxes to assist climate and ecosystem modelers in the improvement of their models. Ultimately, knowing that my work affords me the opportunity to interact with so many bright minds in a collaborative effort to tackle some of today's most important challenges excites me the most.
3) How can our country engage more women, girls, and other underrepresented groups in STEM?
I believe that it is important to make people aware that the opportunity to pursue a higher education is not limited to any particular group of people. I am from a small town in Japan. People in my hometown, including my parents, believed that higher education was only for wealthy, gifted individuals, so I was not encouraged to even consider the possibility. However, during my senior year of high school, one of my teachers motivated me to continue my education and explained to my parents that a number of opportunities did exist if I wanted to take advantage of them. I attended community college and then decided that I wanted to move forward into an even more challenging environment. You only live once, I reasoned; why not dream big? I came to the United States in September 1999 with minimal English and completed my undergraduate degree with honors in May 2003. By May 2010, I had earned a Ph.D. in geography and joined Argonne National Laboratory as a postdoctoral appointee. In June 2013, I became a staff scientist at the lab. If my parents and I had not been fortunate enough to have our collective eyes opened to all of the opportunities available in higher education, I would not be working as a scientist at a national lab today. I am living proof that it is important, as a society, to encourage anyone from any walk of life who has the will and determination to pursue their chosen field of study to the highest level possible.
4) Do you have tips you'd recommend for someone looking to enter your field of work?
I did not come to the United States with a definitive career goal, such as becoming a scientist at a national lab. For me, it would have been too overwhelming to think in those terms. Instead, I set a series of small, yet concrete, short-term goals based on my academic interests. Every time I accomplished one of those goals, I would re-evaluate my ambitions and set a new course along my continually evolving career path. I have made it a point to remain flexible and constantly explore my own scholarly objectives through my work in an attempt to sustain the personal gratification I have enjoyed in the early stages of my career.
5) When you have free time, what are your hobbies?
When I was in school in Southern California, I enjoyed hiking, camping, and backpacking almost every weekend in a mostly desert and semi-arid landscape. The Midwest region offers a very different environment with a lush, green, more dynamic landscape that I have enjoyed exploring these last few years.