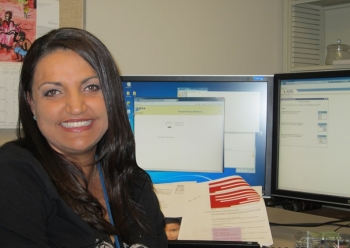 Yahel De La Cruz is a Software Engineer for the Information Communication Services Department matrixed to Strategic Human Resources Management Directorate at LLNL.
Check out other profiles in the Women @ Energy series and share your favorites on Pinterest.
Yahel De La Cruz is a Software Engineer for the Information Communication Services Department matrixed to Strategic Human Resources Management Directorate at  LLNL. Yahel has over 15 years of professional experience in development, administration, software quality engineering, training, and managing Information Systems COTS projects. Prior to joining LLNL, Yahel worked as a student intern for the Central Intelligence Agency where she gained considerable experience customizing software applications to fit the agency's needs for classified collection of intelligence. Having received a B.S. in Computer Engineering and completed several tours as an intern at LLNL, Yahel joined LLNL in support of the development of the NIF's Product Data Management system.  At LLNL, she is involved with many outreach programs sponsored by LLNL's Women's Association and Amigos Unidos Hispanic Employee groups. Yahel enjoys making an impact on people's life by instilling in them the importance and benefits of obtaining an education, especially in the fields of engineering, science, and mathematics.
1)  What inspired you to work in STEM?
 As a child I often watched my Dad fix small appliances around the house. It was very intriguing to me to see him take them apart, find the issue, then put them back together so quickly in working condition.  Dad also introduced me to computers and basic programming at an early age.  Back when I was 6-years-old he purchased the first family computer, a commodore 64 and was not shy to let us kids use it.  It was fascinating when we discovered how to do loops - our limited programming language back then got us into many infinite loops.  These types of exposures to technology as a little kid made me interested in science and technology.  I went through school knowing I wanted to be an engineer.
2)  What excites you about your work at the Energy Department?
Working at Lawrence Livermore National Lab has allowed me to work in several diverse projects.  While I started my career in the science side of the house at NIF, I have had the opportunity to partake in Engineering, Finance, and now Human Resources projects supporting the administrative side of LLNL.  My science and technology background serve a wide purpose in all areas at LLNL.  It really is a fascinating to be able to explore different technologies at work and learn from some of the brightest people in the Department of Energy.
3) How can our country engage more women, girls, and other underrepresented groups in STEM?
I believe outreach and volunteering is the key for engaging anyone in STEM. Providing STEM opportunity and exposure, in addition to becoming a role model, can change a young girl's view of her future career and open door to limitless opportunities.  Women in the workforce can volunteer to mentor young junior high and high school students.  Even something as simple as bring a young engineer to work for half a day might spark interest in technology.
4) Do you have tips you'd recommend for someone looking to enter your field of work?
While in school, take advantages of summer internships and co-op opportunities.  It will open the doors to diverse opportunities within the field and expose you to areas you will love (or not love so much). Internships and co-ops are also great for networking and learning what other professionals do.  Also, learn the theory with the application in mind.  Theory is wonderful, but knowing how to apply it and use it makes the whole difference in the world.
5)  When you have free time, what are your hobbies?
In my free time, I enjoy spending time with my husband and our two young boys, a 6- and 1- year old. Like most parents with little kids, my free time revolves around them. Together we enjoy sports such as running, swimming, bicycling.  We are a very active family, during the year we schedule 5K, 10K, triathlons including kid's triathlon, mud runs, marathons, and more to keep the family active and travel.  We love going to the park and going to the movies.  We make sure to spend some time every day reading stories, and using our creativity, whether that is drawing, writing, or making an intricate structure of legos. There is never a dull weekend.