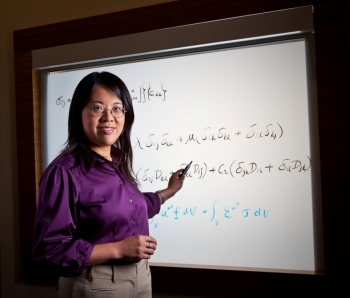 Dr. Xin Sun's scientific advances have led to notable weight savings in the U.S. automotive industry. Xin works at Pacific Northwest National Laboratory.
Check out other profiles in the Women @ Energy series and share your favorites on Pinterest.
Creativity, insight, and application are the hallmarks of Dr. Xin Sun's applied mechanics and computational materials research at Pacific Northwest National Laboratory. Her advances in lightweight and high-strength materials (including steels) and modeling are vital to energy efficiency and renewable energy and have led to notable weight savings in the U.S. automotive industry. Xin is developing simulation and modeling capabilities for solid oxide fuel cells. Her modeling of physics properties are included as part of the solid oxide fuel cell multiphysics modeling code, or SOFC-MP, a commercial software tool, developed at PNNL, used by fuel cell developers. She also uses the continuum damage mechanics model, developed under DOE-funded programs, to understand fracture mechanisms behind transparent armor for the U.S. Army—work that may enable more resilient battlefield vehicles. A prolific contributor to the scientific community, Xin is on the ISRN Mechanical Engineering editorial board and serves as an associate editor on the ASME Journal of Offshore Mechanics and Arctic Engineering and American Welding Society Welding Journal. She also mentors staff and interns at PNNL and Washington State University, where she is a mechanical and materials engineering professor. Xin earned a naval architecture and ocean engineering undergraduate degree from China's Shanghai Jiao Tong University. In only five years, she earned a master's degree in mechanical engineering and a master's and doctorate in naval architecture and marine engineering, all from the University of Michigan, Ann Arbor.
1) What inspires you to work in STEM?
My parents, who are professors emeritus in metallurgical and chemical engineering, were my primary inspiration. Throughout my childhood, my parents never implied to me that as a girl, I could not achieve something I wanted. Engineering was an easy choice for me. I never had a second thought. Truly, it never occurred to me to do anything else!
2) What excites you about your work?
The dynamics of my work: I always get to face new challenges, learn new things, and meet new collaborators from all over the country and all over the world.
3) How can our country engage more women, girls, and other underrepresented groups in STEM?
We should start with improving K–12 mathematics and science education by sparking early interest in these subjects for girls. We should help girls build their confidence by telling them they can do math and science and prevent stereotyping that shuts them outside the STEM door.
4) Do you have tips you would recommend for someone looking to enter your field of work?
Build a solid background in mathematics first. Then, just follow your heart and use your imagination. Do your homework and be confident in yourself. Never get intimidated by the know-it-alls or those who speak with the loudest volume. In your subject area, you know as much as they do — maybe even more.
5) When you have free time, what are your hobbies?
In groups, I like to play the card game called "Tractors." I've been playing this game since college, and it is a lot of fun. If I am alone, I find it relaxing to sit and untangle a large, messed-up ball of thread.