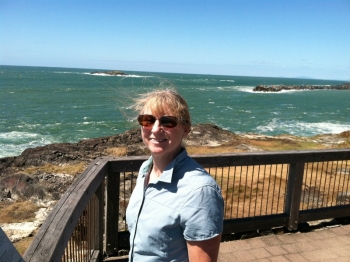 Dr. Virginia H. Dale is a Corporate Fellow in the Environmental Sciences Division at Oak Ridge National Laboratory (ORNL).
Check out other profiles in the Women @ Energy series and share your favorites on Pinterest. 
Dr. Virginia H. Dale is a Corporate Fellow in the Environmental Sciences Division at Oak Ridge National Laboratory (ORNL). She is Director of ORNL's Center for BioEnergy Sustainability.  She obtained her M.S. in mathematics from the University of Tennessee and her Ph.D. in mathematical ecology from the University of Washington. Her primary research interests are environmental decision making, forest succession, land-use change, landscape ecology, ecological modeling, and sustainability of bioenergy systems. Virginia has authored 10 books and more than 220 published articles. She has served on national scientific advisory boards for five federal agencies (the Environmental Protection Agency, US Departments of Agriculture, Defense, Energy, and Interior). She recently served on the committee of the US National Research Council on Renewable Fuel Standard: Potential Economic and Environmental Effects of U.S. Biofuel Policy. Virginia is Editor-in-Chief of the journal Environmental Management and serves on the editorial board of several journals.
1) What inspired you to work in STEM?
When taking a required science class at the university, I heard the words "mathematical ecology" and became entranced. I walked out of that classroom and asked a math professor what this field was. That question resulted in me being the only student in a class called "mathematical ecology." Using mathematical tools to understand ecological relationships was immediately appealing and eventually became the focus of my career.
2) What excites you about your work at the Energy Department?
The opportunity to learn new things
Working with excellent colleagues from whom I learn much
Knowing that my work makes a difference to the future
3) How can our country engage more women, girls, and other underrepresented groups in STEM?
Allowing for and encouraging part-time work and work flexibility
Including  underrepresented groups in key meetings
Having more role models from underrepresented groups
4) Do you have tips you'd recommend for someone looking to enter your field of work?
Have fun! Make sure that is a major focus of your work and life
Strive for balance in work and other parts of  life   
Be organized (it avoids wasting time)
Be persistent
Determine what is important to you (not others) and pursue activities that lead to those results
Delegating everything that can be
Accepting the situation as it is and looking forward rather than backwards
Anticipating challenges and putting in place a way to resolve them before they occur
Being truthful with everyone (e.g., if I can't meet a deadline letting those involved know as soon as possible – rather than worrying about he consequences)
Writing out thoughts or concerns
Seeking help when it is needed
Beginning each workday with the most important activities to you (for me that is writing)
5) When you have free time, what are your hobbies?
Hiking, reading, gardening, biking, and engaging in environmental activism.