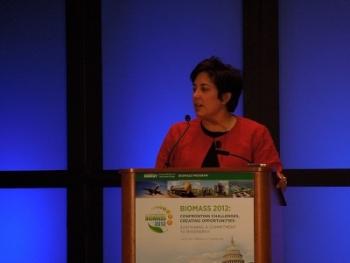 Dr. Valerie Reed is the Acting Biomass Program Manager at the Department of Energy's Office of Energy Efficiency and Renewable Energy.
Check out other profiles in the Women @ Energy series and share your favorites on Pinterest. 
Dr. Valerie Reed is the Acting Biomass Program Manager at the Department of Energy's Office of Energy Efficiency and Renewable Energy. Dr. Reed holds a Ph.D. in Biochemistry from Georgetown University. In addition to her programmatic activities, Valerie is a founding member of the Metabolic Engineering Working Group, which is an interagency effort to advance metabolic engineering technologies for industrial, agricultural and human needs. She also co-chairs the Interagency Working Group on Conversion Technologies established through the Biomass R&D Board to coordinate the Federal effort on Bioenergy.
1) What inspired you to work in STEM?
I came from a science family – my father was a chemical engineer working in agricultural biochemistry and my mother headed up the science department at a high school nearby. My siblings also followed suit, both going into science for their careers. This made science part of my everyday life. What really motivated me to go into science myself was the quality of the teachers I had. From elementary school to high school, they showed me that science was fun, and it wasn't scary to be in the class. My high school chemistry teacher showed us the magic of chemistry, with substances turning green and vanishing in a poof in front our eyes. That mesmerized me and inspired me to join the chemistry club, where we visited elementary schools as traveling salesmen for chemistry, doing experiments and offering that chemistry magic to others.
2)  What excites you about your work at the Energy Department?
I came to work at the Energy Department to help address the energy and environmental issues we face as a Nation, and what kept me here was seeing the successes of the Department through our research and development. We are really within reach of our national goals in many areas, and we can't stop this push until we hit our mark. I started at the Energy Department twenty years ago, and at the time I didn't expect to see biofuels cost-competitive with petroleum in my lifetime but we are seeing it now. I love seeing the results of our work, and feeling like my career is making that difference. I love being a part of the bigger team working on these efforts, as well as industry partners, which also translate the accomplishments into successful products and businesses.
3) How can our country engage more women, girls, and other underrepresented groups in STEM?
Making careers more exciting and reachable for girls is something that we can all be doing through humanizing these careers. Anyone can enter STEM fields, not only Nobel laureates. By teaching STEM in high school, we can expose students to that fact, and get students face time with people in the field, working internships, and learning more about these fields. We want more students to see us as the guy down the street and picture themselves here too. All organizations and individuals can try this approach, and be inviting to students in STEM.
4) Do you have tips you'd recommend for someone looking to enter your field of work?
My daughter is currently considering biochemistry as a career, and I always tell her to get her hands dirty and try it out for herself. Get field experience, an internship, early research, or anything else that will allow you to go and engage in your potential future career. I also think students need to get outside their comfort zone to search out their niche – you never know when you'll hit that career path if you don't try new things. Graduate work can help with this. I know all this from personal experience, as I came to the Department of Energy in 1993 as a summer intern while I was in school at Georgetown for my biology Ph.D.  That internship changed my life direction and shaped my career.
5) When you have free time, what are your hobbies?
I spent most of my time raising my kids, and trying to give them a well-rounded background in both academics and sports. I'm a cheerleader mom and soccer mom, and I volunteer to teach science as well. For instance, I started a science fair at my kids' elementary school when I discovered they didn't have one, and I've been involved with that for the past five years.