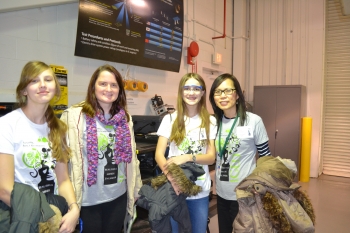 Tina Henne, in the purple scarf, stands with participants in Argonne's Introduce a Girl to Engineering Day in February 2013.
Check out other profiles in the Women @ Energy series and share your favorites on Pinterest. 
Kristene "Tina" Henne is the postdoctoral program coordinator at Argonne National Laboratory. She likens this position to that of a "kickstarter" in that she helps early career Ph.D. scientists and engineers kickstart their careers. As a program coordinator, she facilitates the postdoctoral appointment process, career development, and advises the Postdoctoral Society of Argonne. Tina earned an Associate in applied science  in radiography from Kankakee Community College in Kankakee, IL. While working as a staff radiographer at Provena St. Mary's Hospital, she continued her studies toward a Bachelor's of Science in biology at Governors State University. She then earned her Doctorate in biological sciences at Purdue University, where she concentrated her research on the molecular genetic and proteomic response of soil bacteria to toxic heavy metals. She came to Argonne as a postdoctoral researcher in the Biosciences Division in 2009 and accepted the position as postdoctoral program coordinator in 2011. She is proud to be part a Lab that is on the forefront of scientific discovery and shares this pride through STEM outreach and community engagement.
1) What inspired you to work in STEM?
As a kid, I was always outside playing in the dirt or observing things in nature. I also liked to figure out how things work and once spent a whole day taking my bicycle apart and putting it back together after the chain kept falling off. In school, though, my interests fell heavily with the arts and writing. It was volunteer work in a hospital and nursing home that inspired me to think about allied health professions. So, my first taste of real science came while studying to be a Radiologic Technologist. We had to learn the physics behind generating medical X-rays, how radiation interacted with the body and with film to produce diagnostic images and, of course, human anatomy and physiology. All of this requires a firm grasp of mathematics to pull it together. While working as a rad tech, I continued my education towards a Bachelor's degree in biology with the intent to go to medical school. That is when I realized how much I love learning about bacteria and how they interact with their environment. That inspired me to pursue graduate training in microbiology and molecular genetics.
2) What excites you about your work at the Energy Department?
One thing that is very important in my choice of careers is knowing that my work benefits society. At Argonne, our research applies to the three main Department of Energy missions of energy, national security and the environment. That means I get to work with people who are passionate about making our world cleaner, safer and more sustainable. The Department of Energy mission is also well aligned with my research interests. As a microbiologist, I studied bacteria that can live in very toxic environments. Figuring out how they are able to live in such harsh places and potentially using that knowledge to help clean up the environment was like solving a mystery. So, in a way, I got to be a microbial sleuth!
3)  How can our country engage more women, girls, and other underrepresented groups in STEM?
I think it is important to engage students early in their education and show them how science permeates their lives. Everything we touch has science behind it. Think about it — even your makeup and hair products needed to be designed by chemists and chemical engineers! I never knew I wanted to be a scientist when I was in middle school or high school. It's not that I didn't like science; I just wasn't exposed to scientists or what they do. And we didn't have the Discovery channel back then! So, a few key things: show practical applications of basic science concepts; call on STEM professionals to speak with kids about what they do; check gender and cultural stereotypes and preconceptions at the door. There is no time for that when students are trying to be creative and innovative! We also need to show students that technical degrees require an understanding of science and math, too. As a radiologic technologist, I used biology, chemistry, physics, computers and math every day on the job. It's not just about being behind a bench in a white lab coat.
4)  Do you have tips you'd recommend for someone looking to enter your field of work?
At the K-12 level, the best tip I can recommend is not to limit yourselves or narrow your interests too much. Build upon problem-solving skills such as reading comprehension, teamwork and math. You know those word problems you have to do? Just working through those helps build the pathways in your brain that are needed to think and work through problems and find solutions. You don't have to like every area of science, but at the very least, try to learn about as many disciplines as possible. For my specific area—microbiology—check out some of the resources from such agencies as the Department of Energy and from professional organizations like the American Society for Microbiology. Ask your guidance counselors and teachers about summer internship or job-shadowing opportunities. Don't be afraid to ask a scientist or engineer if you can interview them about their careers. This might be a great project for your school newspaper.
At the undergrad level, make sure you have a strong chemistry component built into your degree plan. Bacteria are cells, right? And cells are little bags of stuff trying to do biology through chemistry and physics. If you are not quite sure which area of microbiology you want to pursue, try talking to diverse faculty to gain an appreciation for the different subfields. I started out thinking that I had to be a clinical microbiologist given my healthcare background, but ended up researching soil bacteria that can "eat" heavy metals. Why was I able to make that jump? Because it was the fundamental processes—the genes and the proteins that make cells work—that I really wanted to define. That is what kept me interested.
At the graduate level, I recommend building two skill sets—your technical skills and your leadership skills. If you go through your entire graduate training and only learn one technique, you are limiting yourself tremendously. At the graduate level, employers will look to you to be group leaders, managers, and faculty. That takes those "soft" skills that you hear about from career counselors. Join groups at your university or through professional societies. Some societies actually have programs for professional skills training. You just have to know where to look. Offer to be a mentor to incoming students at your university. We owe to the next generation to mentor back. Undergrads and graduate students should also check into the many programs that allow you to do research at the Department of Energy National Labs. It's a great way to learn what it is like to work in a high-tech environment that does high-impact work. And when it is time to look for a postdoctoral appointment, make sure to call me!
5) When you have free time, what are your hobbies?
I come from a big family, so I try to spend time with my brothers and sisters and their kids as much as I can. Living in downtown Chicago has endless possibilities and feeds my creative bone. One of my favorite things to do is to walk through the city and build off the energy—the vibe. I love being outside, writing stories and commentary and have a deep appreciation for art. I'm also a bit of a sports fanatic and am looking forward to the Purdue Women's Basketball team making it to the Final Four. Boiler Up!