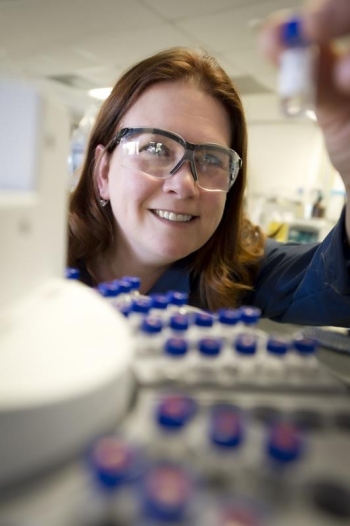 Teresa Alleman is a senior chemist with the Fuels Performance Group at the National Renewable Energy Laboratory.
Check out other profiles in the Women @ Energy series and share your favorites on Pinterest.
Teresa Alleman is a senior chemist with the Fuels Performance Group at the National Renewable Energy Laboratory. She has been with the Fuels Performance Group for 13 years and focusing her research on reducing technical barriers to increase utilization of alternative and advanced fuels. In recent years, Teresa has worked on a wide variety of current and future fuels and blendstocks, such as biodiesel, ethanol, natural gas, Fischer-Tropsch fuels, pyrolysis oils, and terpenes. With her background in analytical chemistry, Teresa focuses her work on fuel quality, test methodology, and trace component analysis. She has led a large number of projects and has an impressive list of publications in these areas. Teresa oversees three fuel chemistry laboratories with a wide variety of analytical equipment, including GC and GC/MS, UPLC/MS, FTIR, TOF-MS and wet chemistry methods to support her research. Teresa is an active member of the petroleum committee at ASTM and has written and supported multiple test methods and specifications for alternative fuels over the years. She is also an active member of ACS and SAE.
1) What inspired you to work in STEM?
I've known I wanted to do something in STEM for as long as I can remember. I was always the kid that wanted to be an engineer. I never considered chemistry until my sophomore year in college, but once I switched my major, I never looked back.
2) What excites you about your work at the Energy Department?
There are so many great things about working for the Energy Department – the mission leads to amazing projects, which in turn, leads to an amazing group of people working to achieve a common goal. At the National Renewable Energy Laboratory, I work on fuels utilization and performance issues. We work on reducing barriers to utilization of advanced and alternative fuels; essentially, once the fuel is produced, what technical issues does the fuel encounter before broad market acceptance? The work is very applied and engaging. One of the things I like the most is being able to work on multiple projects with different fuels; each has its own set of stakeholders and issues. It's never the same thing and I know the work that I do has immediate impact on our fuels landscape.
3) How can our country engage more women, girls, and other underrepresented groups in STEM?
I think we need to provide more mentoring and peer support to women, girls and other underrepresented groups. Having a mentor is important to developing your career. It's someone that can help you navigate work place issues and provide that support as you advance your career. Having peer support is critical too, someone that is facing the same challenges you face, or has recently been through them, someone to provide that sounding board for the issues we all face in our careers.
4) Do you have tips you'd recommend for someone looking to enter your field of work?
I'd tell them to keep an open mind about what they want to do and how it fits within their skill set. The work that I do requires good analytical chemistry skills, strong project management, good communication and interpersonal skills. Do you have to be a "gear head" to work with fuels? No, though I think many of us are. Take a long hard look at what skills you offer and how it fits into different areas of STEM. You could find yourself working in an unexpected area and realize it's where you were meant to be all along. But, if you pigeonhole yourself, you will never know what opportunities are out there.  
5) When you have free time, what are your hobbies?
My family is very active and it seems like we are always on the go! I run and play tennis several times a week. I also volunteer with Girls on the Run, an organization that uses running and a learning curriculum to help elementary age girls to be confident, strong young women.