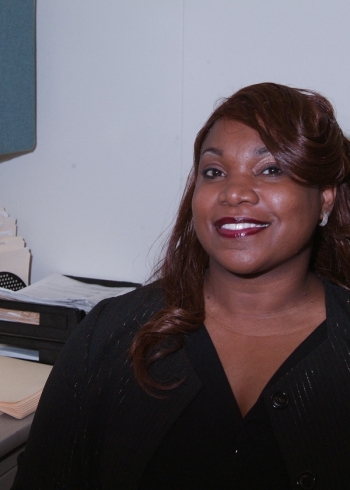 Tameka Kirk is the Energy Information Administration's (EIA) Manager of IT Acquisitions and User Services Center in the Office of Resource and Technology Management's, Office of Information Technology.  She actively participates and contributes to EIA's technology design, deployment, program implementation and support.  Tameka is currently focusing on IT Project Manager working and implementing a team oriented approach to excellence and customer centered outreach.  She has more than 14 years of experience with computers, communications and Information technology stakeholder service in the EIA. Before joining EIA in 1998, Tameka served as a Marine in the United States Marine Corps, where she was the lead in secure communications at Marine Corps Base Quantico for the Communications Electronics Division. During her tenure in the Marine Corps she was also assigned to the School of Infantry, Marine Combat Training, where she was part of a team of Noncommissioned Officers responsible for the training of junior Marines on the fundamentals of combat training and weapons tactics. Tameka graduated from Strayer University, with a major in Computer Networking.
1) What inspired you to work in STEM?
I was always intrigued with solving mathematical equations and as a kid my teachers would always give little memorization mind facts to help us.  And the one thing I always remembered was that you needed to understand and comprehend what you had previously learned to go to the next level.   I realize now that they were teaching us strategic planning and how to excel in the things that we were learning.  I found office machines and calculators very interesting so when I got to high school I was able to take a few courses in business machines.  I knew then that I wanted to get into the field of and study information technology.  I continued to pursue these interests in college and in my military career I studied communications and computer security.  After joining the Marine Corps I went to school in California to study communications electronics.  Then three years later went back to school for Computer Security Specialist training.  I started out by studying Computer Science and received my Associates (1998) but soon realized that I wanted to know more about how the computers and network were able to communicate so I switched my major in 2000 to Computer Information Systems specializing in Computer Networking. Joining the EIA, Office of Information Technology Student Career Experience program in 1998 afforded me the great opportunity to excel and enhance my knowledge in technology and understand the significant role that EIA's data plays in the information that is released to the general public.  Being a part of the team that protects and transmits this data securely is what connects the work I do to the strategic goals and mission of the Energy Department.
2)  What excites you about your work at the Energy Department?
I am excited about working with employees at the Energy Department because I enjoy learning and like the fact that technology is mission critical and constantly changing to be more efficient and cost effective.  I have a strong interest in the different aspects of Information Technology as it relates to enhancing how we do our jobs for the good of the American people and must ensure that the technology we use can provide what they need, when they need it .  As a leader in Information Technology it helps me to stay involved with meeting the customer's (citizens) needs. I am blessed to work with very knowledgeable colleagues where we continuously share our wealth of knowledge amongst each other.
3)  How can our country engage more women, girls, and other underrepresented groups in STEM?
I believe that the local colleges, universities, state and federal governments should provide various internships that are specific in the fields of study for science, technology, engineering and mathematics.  This will help those young women that are pursuing degrees in these areas to get some real work and hands on experience.  I encourage all strong/empowered women to pursue the opportunities and always welcome the challenge.  I feel that women should feel safe and valued and integral to the business processes in this overwhelmingly "male" dominated field.
4) Do you have tips you'd recommend for someone looking to enter your field of work?
I would advise the women that are studying in the fields of science, technology, engineering and mathematics to think big and join the groups or organizations within your communities of interest schools and universities to network and build partnerships, form an  alliance and interact with and network with the professionals currently working in this environment.  I encourage them to participate and pursue the internships available through the local colleges, universities, state and federal governments.
5)  When you have free time, what are your hobbies?
In my free time I enjoy spending time with my children/family, cooking, shopping, traveling to islands in the Caribbean and reading books such as, suspense novels, new information on technology and currently reading more on Project Management.