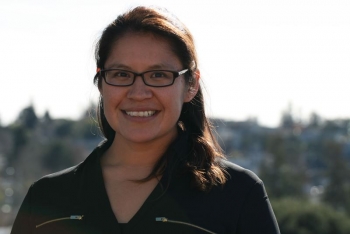 Suzanne L. Singer is a post-doctoral researcher at Lawrence Livermore National Laboratory where she supports engineering and energy security with projects in energy efficiency and renewable energy.
Check out other profiles in the Women @ Energy series and share your favorites on Pinterest.
Suzanne L. Singer is a post-doctoral researcher at Lawrence Livermore National Laboratory where she supports engineering and energy security with projects in energy efficiency and renewable energy.  Prior to LLNL, she worked at Sandia National Laboratories under the Tribal Energy Program learning about project development on Tribal lands and researching concentrated photovoltaics.  Suzanne earned her Ph.D. and M.S. in mechanical engineering from the University of California, Berkeley, while investigating microscale heat transfer of nanostructured materials to improve thermoelectric device efficiency for power generation or refrigeration.  She completed a B.S. from the University of Arizona in mechanical engineering.
1) What inspired you to work in STEM?
I really enjoyed math when I was a kid. Growing up, I got to see my mom use programming as a tool to make maps of the moon and planets, and my dad is an engineer and very hands on with electronics.  In college, I considered different engineering paths, and a research internship made me want to continue studying heat transfer. My graduate school experience led me to exciting research and my current interest in energy. My amazing parents inspired me to pursue STEM, and I've had fantastic mentors that support and help advance my career. 
2) What excites you about your work at the Energy Department?
The capabilities at DOE laboratories have allowed me to explore several areas of energy, and make it possible to bring together multi-disciplinary teams to solve interesting and challenging problems. At Sandia, I learned about energy projects that Tribes are developing for self-sustainability, economic development, or simply to provide electricity to areas that don't have access to the power grid or indoor plumbing. That experience fuels my passion for finding ways the national labs can positively impact Tribal communities. At LLNL, I've expanded my knowledge in building efficiency, renewable energy, and using data visualization to depict important energy flows. 
3) How can our country engage more women, girls, and other underrepresented groups in STEM?
We need to expose Native Americans and other underrepresented, and often underserved, populations to science and math at an early age and continuously stimulate STEM education. There are some efforts to identify cultural and socioeconomic barriers to academic success, foster learning opportunities across many education levels, and provide support mechanisms through mentorship.  While many obstacles still remain, there is potential to enrich STEM learning.
It is motivating to have professionals in STEM fields that we can relate to. The Women @ Energy project is doing a great job publicizing successful women who pursued STEM career paths, and reinforcing the reality that diverse experiences and thinking is needed to cultivate new and creative ideas. 
4) Do you have tips you'd recommend for someone looking to enter your field of work?
In general: Work hard. Network. Celebrate accomplishments. Be grateful for support and encouragement from family, friends, and colleagues. 
In school: Good grades leads to better scholarships, better schools, and more opportunities.  Ask questions. Keep track of application deadlines.
In engineering: Math and physics are good foundations. There are more engineering career options than you might think.
In research: Seek out tips to help you be a successful researcher.  Have your "elevator speech" ready – the few minute conversation that gets people excited about your work.
5) When you have free time, what are your hobbies?
I grew up on basketball, so I love playing and watching Arizona. I've been snowboarding more in the past few years, and am thrilled when there's good snow in the mountains. I wish I had more time to travel and enjoy new places and experiences.