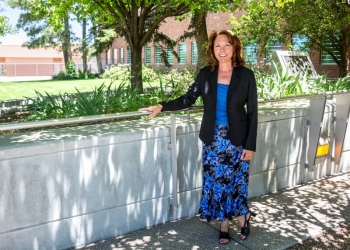 Sheryl Hingorani manages Nuclear Weapons Strategic Planning and Enterprise Integration at Sandia National Laboratories.
Check out other profiles in the Women @ Energy series and share your favorites on Pinterest.
Sheryl Hingorani manages Nuclear Weapons Strategic Planning and Enterprise Integration at Sandia National Laboratories. She is responsible for strategy development in Sandia's Nuclear Weapons mission area, leading a team that anticipates future U.S. nuclear deterrent needs; innovates productive solutions and alternatives; collaborates on approaches with the entire U.S. nuclear weapons community; and advocates for collective, imperative action in the best interests of the nation. She brings nearly 30 years of nuclear weapons experience to this role.
Ms. Hingorani started her career at Sandia in 1986, as a design engineer for explosive components, and has spent most of her career working in a variety of positions in Sandia's Nuclear Weapons program. She chaired the independent Red Team for the Annual Assessment of the state of health of the U.S. nuclear stockpile, and later led the development and implementation of Sandia's initiative for transforming and integrating stockpile evaluation and assessment activities. Ms. Hingorani received a special appointment to Distinguished Member of Technical Staff at Sandia in 1998, and moved into management in 2004. During her tenure at Sandia, Ms. Hingorani has received several internal awards for her achievements, and twice was honored with the National Nuclear Security Agency's prestigious Defense Programs Award for Excellence. Ms. Hingorani earned a BS degree in Mechanical Engineering from the University of Nebraska and an MS degree in Mechanical Engineering from the University of New Mexico. She has traveled extensively, and lives in Albuquerque, New Mexico with her family. She is active in the United Way as a member of the Vision Society and Women in Philanthropy.
1) What inspired you to work in STEM?
Education was a major part of my upbringing. My father was born in India and at age 16 his hometown became part of Pakistan and his family sent him as a refugee to study in Bombay. The refugee housing didn't have electricity, so at night he would go outside and study under the street lamps. He went on to earn a PhD in Geophysics. I think you value things more when they're taken away.
In my family, it was assumed that I would go to college and become a doctor or an engineer. Fortunately, I was always good at math and I enjoyed it, so I was encouraged to pursue that area from an early age.
I've since passed along this appreciation for learning to my own two daughters, encouraging them to think critically about the world around them.
In general, STEM fields provide financial stability. This appealed to me, but not out of greed, out of what that would allow me to contribute to society. The more money you make, the more you can provide for your family and community: I pay more in taxes,  donate more to the United Way, and I can save so that my children and future grandchildren benefit— it's important to have a sense that life is bigger than yourself.
2) What excites you about your work at the Energy Department?
I'm proud to serve the nation by working at a national security laboratory. I believe nuclear weapons are about deterrence and preventing war. As an engineer, there is something very strategic and intellectually challenging about the concept of deterrence in furthering global stability.
3) How can our country engage more women, girls, and other underrepresented groups in STEM?
We need creative thinking around education in order to attract more people to pursue the STEM fields. When I graduated from the University of Nebraska, I was actively recruited by Sandia National Laboratories. They had a program specifically designed to recruit women and underrepresented groups with STEM degrees and good grades, and then to help them pursue their master degrees. I benefitted from this type of program and recognize its value.
Also, I think media outlets play a role in promoting STEM fields. We should be more mindful about what we glamorize and how that attention impacts children during a really impressionable time. Who are girls identifying as role models? Television shows like 'The Big Bang Theory' have done wonders to popularize science. We should acknowledge that the power of this medium is undeniable and take advantage of that more often.
4) Do you have tips you'd recommend for someone looking to enter your field of work?
For those interested in pursuing a national security STEM field, specifically, it's important to pay attention to the world around you, to global affairs and current events. For any STEM field, you should expand your horizons and pursue every chance to experience a variety of careers. Ask if you can job shadow your parent, a neighbor, a friend and see what they can show you. There are a lot of options out there, some you may never have thought of.
Throughout your career, take the opportunity to try new things and become involved in your community, particularly in women's leadership initiatives so that you can give back and continue to inspire the next generation of women in STEM.
5) When you have free time, what are your hobbies?
I enjoy working out and it's a good way for me to relieve stress. I also do a lot of international travel; I've visited 18 countries. As a young child we went to India every year or two and I've tried to instill that love of travel in my daughters. Travel teaches you how important context is. It makes you more open to other ideas and perspectives, and to the fact that there often isn't one right answer, but rather options and alternatives.
Growing up in Nebraska no one could pronounce my last name "Hingorani" because it wasn't "Smith" or "Johnson." I remember one time when I was traveling in India as a child, I opened the Bombay phone book and was amazed to see pages and pages of Hingoranis—perspective is everything.