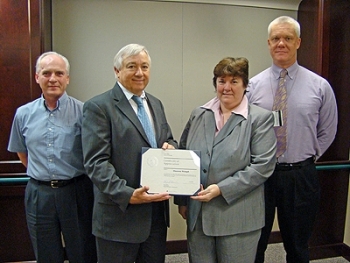 Shawna Waugh is a mathematical statistician for the Office of Petroleum and Biofuels Statistics at the U.S. Energy Information Administration (EIA).
Check out other profiles in the Women @ Energy series and share your favorites on Pinterest. 
Shawna Waugh is a mathematical statistician for the Office of Petroleum and Biofuels Statistics at the U.S. Energy Information Administration (EIA). In her work, she plans, implements, monitors, and evaluated survey methods, energy programs, and systems dynamics including modeling. Before she joined the EIA, Shawna served in the Peace Corps in Ghana, and then worked for the Peace Corps as a Volunteer Recruiter and then as a Program Analyst. Shawna earned her B.A. in Religion from St. Olaf College, and her Master's in International Development from American University.
1) What inspired you to work in STEM?
I started my career solving puzzles, an activity I enjoyed early in life!  I enjoy the creative process (brainstorming, identifying alternative approaches and outcomes, establishing boundaries for a problem, and utilizing analytic and systems techniques useful in approaching problems, professional and personal.  
I became interested in a career in government service after a College Professor shared about his experiences teaching math in the Peace Corps.  After completing my Bachelor's degree at St. Olaf College (in Minnesota) I taught mathematics at Sogakofe Secondary School in Ghana, West Africa.  I loved teaching and learning about Ghanaian culture and ways of life. 
One especially memorable event while serving in the Peace Corps was showing films to my students from the United States Information Service (USIS).  This included a film about NASA's Apollo 11 mission, where Neil Armstrong and Buzz Aldrin walked on the moon.  Their slogan was "One small step for man and one giant leap for mankind."  Showing this film provided an opportunity to explain to my students about the achievements of scientists, mathematicians and engineers.   
2) What excites you about your work at the Energy Department?
I have had many professional opportunities working for the U.S. Energy Information Administration (EIA), a federal statistical agency at the DOE. I enjoy working either independently or on a team to design new surveys, to identify and resolve data discrepancies, to conducting research on a variety of survey and statistical methods, to preparing documentation and evaluations of surveys, and to participate in professional associations. I enjoy attending national and international conferences to learn innovative approaches and to share about current research underway at EIA.
3) How can our country engage more women, girls, and other underrepresented groups in STEM?
There have been a few Office Directors and supervisors who have provided professional support to their employees (whereas others have not). These people encourage all staff, both men and women to seek and pursue their desired professional goals. They provide guidance (if able) or work to find someone else to provide mentoring. 
One approach to encouraging more women to get involved in STEM programs would be to recruit former female Peace Corps Volunteers, especially math and science teachers.  This group has non-competitive hiring advantages for two years after they complete their service.  They have acquired an undergraduate degree, are likely to meet the basic requirements for the GS-7 for positions requiring either mathematics or science courses.  They have demonstrated an interest in mathematics and science and commitment to government service.  They have also developed cross-cultural and leadership skills from their experience teaching overseas.
4) Do you have tips you'd recommend for someone looking to enter your field of work?
Girls and women need encouragement, mentoring, training and the opportunity to achieve their professional goals.  One opportunity to obtain mentoring and training on public speaking is provided through Energy Toastmaster. This program provides members with critical thinking skills, active listen skills and experience in public speaking.
5) When you have free time, what are your hobbies?
Hobbies – reading, movies, playing cards, travel, and crafts.