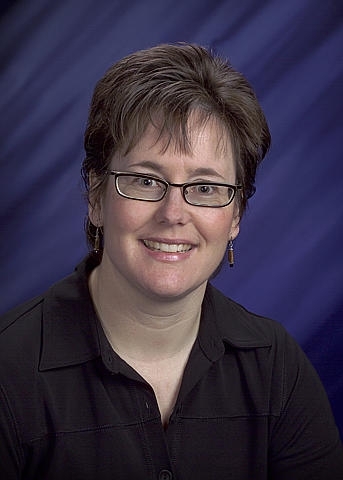 Shannon Goodwin is a senior research scientist in the Nuclear Materials Analysis Group at Pacific Northwest National Laboratory.
Check out other profiles in the Women @ Energy series and share your favorites on Pinterest.
Shannon Goodwin is a senior research scientist in the Nuclear Materials Analysis Group at Pacific Northwest National Laboratory. She and a team of scientists work in an Electron Microscopy laboratory characterizing environmental samples.  Since joining Battelle, Shannon has been involved in a wide variety of site characterization, hazardous waste site monitoring, and basic research projects.  She has been heavily involved in advancing K-12 science education and won PNNL's Fitzner-Eberhardt Award for outstanding contributions to science and engineering education.  Shannon earned a bachelor's degree in geology from Whitman College and a master's degree in geology from Western Washington University. 
1) What inspired you to work in STEM?
A life-long love of the natural sciences that began when I met a self-proclaimed "rockhound" when I was six years old!  I grew up in the foothills of the Cascade Mountains where I developed a love of the outdoors and a keen interest in the environment.  When looking at career options, I decided to focus on environmental science.  After enrolling in my  first college geology course, I was hooked and never looked back.  It also helped having very supportive parents who understood the importance of education and encouraged me the entire way. 
2) What excites you about your work at the Energy Department?
I have always enjoyed working on Office of STEM Education activities because they are a welcome break from the normal, day-to-day laboratory routine.  The teachers who participate are generally excited about science and come to PNNL willing to learn and actively participate. It is genuinely rewarding to know that as scientists, we are potentially helping educate future generations of scientists by either increasing an educator's comfort level with science or by spreading our enthusiasm for science on to their students.  In turn, the eagerness of the teachers and students buoys my spirits and I am able to bring that increased level of engagement back in to the workplace.
3) How can our country engage more women, girls, and other underrepresented groups in STEM?
Find ways to engage in local educational outreach efforts.  Teachers are always looking for STEM presenters to increase content knowledge in their classroom.  Volunteer as a judge at local science fairs, give lectures at your local library, volunteer to lead local field trips, etc.  There are so many great outreach opportunities people can get involved with at any level.  The best thing is these opportunities are available in any community, regardless of size and availability of resources. 
4) Do you have tips you'd recommend for someone looking to enter your field of work?
Take as many STEM courses as you can until you find something that you really feel passionate about.  Be sure to include course work that includes reading, writing and spoken communication, as these are vital skills for success in today's STEM workforce.  Students will be unable to advance in their chosen career without the ability to critically interpret and evaluate information and then communicate the information clearly and persuasively.
5) When you have free time, what are your hobbies?
Most of my hobbies involve being outdoors, so I love to backpack, ski and bike.  My husband and I share a passion for international travel.  Together we have spent weeks trekking through the High Atlas Mountains of Morocco, trekked the Himalayas in the former Buddhist kingdoms of Sikkim and Ladakh, India, circumambulated the Torres del Paine in Patagonia, explored the jungles, mountains and beaches of Borneo, spent weeks camping on an island off the coast of Belize, trekked the Inca Trail in Peru, and adventure travel in Iceland and Greenland.