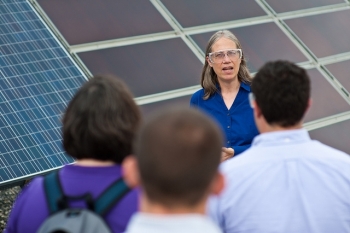 NREL Principal Scientist Sarah Kurtz leads a tour of the Outdoor Testing Facility for the Congressional Staff at The National Renewable Energy Laboratory (NREL). (Photo by Dennis Schroeder / NREL)
Check out other profiles in the Women @ Energy series and share your favorites on Pinterest. 
Sarah Kurtz obtained her PhD in 1985 from Harvard University and has worked since then at the National Renewable Energy Laboratory, in Golden, CO.  She is best known for her contributions to developing multijunction, GaInP/GaAs solar cells and for supporting the Concentrator Photovoltaic (PV) industry.  Her work has been recognized with a jointly received Dan David Prize in 2007 and the Cherry Award in 2012.  Currently, she is managing the Reliability Group at NREL and working to facilitate the growth of the PV industry through improved performance of PV in the field.
1) What inspired you to work in STEM?
I always thought math was fun, but I wanted to use math to do something useful to the world.  I found that the world of science and technology provides practical application of math skills.
2) What excites you about your work at the Energy Department?
It's very fun to see how the new renewable energy industries have grown in the last decade from generating an inconsequential amount of electricity to an amount that is now measured in multiple % for some countries.  It's exciting when I find a way that I can contribute personally to that growth and it's exciting to see the vision of how these will continue to grow and to feel like I'm part of that.
3) How can our country engage more women, girls, and other underrepresented groups in STEM?
You may not like my answer on this: individuals should choose careers that are meaningful to them.  We should try to remove barriers that prevent anyone from entering a useful career, but, personally, I don't see a need to try to equalize numbers.  However, if you want an analysis of why it's a problem and how to address it:  I observe that the scientists tend to be rich in introverts and that effective management sometimes suffers because there aren't so many individuals who have the necessary skill sets for interacting with people.  Female managers are often more positively engaged with their direct reports.  We could be more intentional in communicating the career paths that lead to such positions:  a woman who makes a reputation with a few years of high-quality scientific work is then well positioned to be tapped to move into management positions.  Sometimes women are encouraged to move into the management position before having had the opportunity to establish their personal reputation. This does not work well because they may not have the respect needed to be effective managers. More often, women view STEM careers as uninteresting and don't see the potential for where they might end up.  Specifically, my suggestion might be to have a practical 1-h class or set of seminars in scientific degree programs that discuss the range of types of positions within STEM including people management positions, project management positions, hands-on "in the lab" work, etc. I remember being an undergraduate and wondering what it would be like to choose a career in some direction. Would I be doing weekly problem sets for the rest of my life?  :-) So, bringing in scientists who enjoy different types of STEM positions to talk with undergraduates when they are making career decisions would be very helpful both for young women and men.
4) Do you have tips you'd recommend for someone looking to enter your field of work?
In today's world, it's often necessary to have a broad set of skills. Look for opportunities to do different things (for example, look for interesting summer programs while going through college and for part time jobs or volunteer positions while going through schools). Get a sound understanding of the basics in chemistry, physics, etc. Treat all feedback as opportunities.  Find the place where you fit in, personally.   Research is fun, because there are always new things to do, but it is highly competitive: so choose a level of contribution at which you can be the strongest contributor around.  If this means that you are a technician in the lab, that is something to be proud of:  a good technician can be very difficult to find.
5) When you have free time, what are your hobbies?
 When my children were young, I read to them a lot.  Now that they are older, I like to go visit them or talk with them on the phone.  I also try to get exercise by going for walks, enjoy making music, and try to find time for gardening.