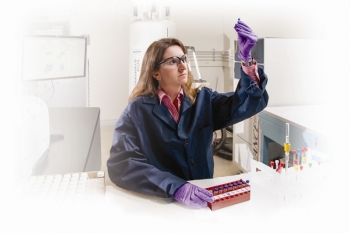 Sarah C. Chinn is a Deputy Group Leader for the Forensic Science & Assessment Support group at Lawrence Livermore National Laboratory.
Check out other profiles in the Women @ Energy series and share your favorites on Pinterest.
Sarah C. Chinn is a Deputy Group Leader for the Forensic Science & Assessment Support group and was the previous Program Element Leader for the Weapon Materials Compatibility and Aging Group in the Chemical Sciences Directorate at Lawrence Livermore National Laboratory (LLNL). Sarah joined LLNL as a postdoctoral researcher in 2002. Her expertise lies in the application of nuclear magnetic resonance (NMR) spectroscopy to a range of scientific problems from polymer dynamics; material aging and compatibility; chemical forensics; reactivity, transport, and decontamination of chemical threats; advanced material characterization; and studies of environmental systems. 
She is responsible for program development and implementation for chemical agent science. Sarah has led multiple projects investigating agent fate and decontamination of chemical threats. Sarah leads the Non-Nuclear Materials Major Technical Effort of the Enhanced Surveillance Program, whose core focus is to understand and predict long-term aging and compatibility behavior of polymeric and other non-nuclear materials in the nuclear weapons stockpile. Sarah received a B.A. in Chemistry from Mount Holyoke College in 1997 and a Ph.D. in Physical Chemistry from UC Davis in 2002. She received a graduate certificate in National Security Affairs in 2013 from Texas A&M's Bush School of Government & Public Service as part of the lab's National Security Leadership Program. 
1) What inspired you to work in STEM?
Math and science always seemed logical to me.  As a young girl I felt a certain satisfaction at being to solve a difficult math problem or understand why something in nature worked the way it did.  I have been an animal lover all my love, and entered college intending on being a biology major and becoming a veterinarian.  Chemistry happened to fit into my schedule better my first semester, so I took Intro Chemistry to 'get it out of the way' so I could move on to my biology classes.  By the end of the semester, I was hooked on chemistry, and I never looked back.  I was fortunate to land a couple summer internship opportunities at a chemical company, which introduced me to an exciting new career opportunity.
I attended a women's college, which provided an incredible start to a science career.  I was in an environment where all student leaders were women, and the perception that women could not succeed in STEM careers was completely foreign.  Like so many other women there, I was empowered to become whatever and whoever I wanted to be.   I had three particular role models and mentors in college, all of whom were in underrepresented groups in STEM, and they all supported me and gave the inspiration to succeed in my career (and still do to this day).  I can only hope to have such an influence on the next generation of STEM students.
2) What excites you about your work at the Energy Department?
There is an incredible diversity in the research opportunities available at our national labs.  I have worked on so many interesting projects over the years and every new project is an exciting new challenge. I love working along side researchers with completely different backgrounds; I have learned so much more from my colleagues than I could ever learn out of a single book.  We are able to solve important national problems and, using resources available at only a handful of institutions, are able to become experts in technical areas that few other researchers have the opportunities to study.
3) How can our country engage more women, girls, and other underrepresented groups in STEM?
Young students at any stage in development need good role models.  Women, girls, and other underrepresented groups can particularly benefit from strong women and minority role models.  As human beings, we tend to relate to people who are most like us; young girls who can grow up seeing successful women and minorities in STEM fields have someone to emulate.  As professional women in STEM, we can play that role to the younger generations in our own lives.  The country has made tremendous progress over the last generation when it comes to gender equity and STEM education, and we must continue to hire and support women and minority STEM professionals in the workplace.  It is also important to consider how STEM are portrayed in the media.  We need a lot more 'Abby Sciuto's (NCIS) on TV!
4) Do you have tips you'd recommend for someone looking to enter your field of work?
One of the most important, yet often overlooked, aspects of STEM work is the ability to clearly communicate your results.  One of the best pieces of advice my undergraduate research advisor gave me was to take a writing class.  Scientists are constantly writing papers, proposals, and presentations.  When you can become captivated by an eloquently written research proposal or journal article, that is a beautiful thing!
While it is important to take lots of math and science classes and gain as much research experience as you can, it is equally important to take the opportunity to study in areas outside of STEM disciplines.  The further advanced your STEM studies become, the fewer opportunities you will have to take a class 'just for fun.'    Having a diverse educational background not only makes you a more well-rounded individual in general, but it also is extremely helpful when it comes to communicating with non-scientists.  There will be many times in your career when you will be faced with the challenge of presenting a research proposal, briefing project results, or even working on a project with someone with a very different educational background from you.  The ability to understand and respond the needs of partners, sponsors, and customers is an extremely valuable and necessary skill.
Above all, try out lots of things, ask lots of questions, and don't be afraid to make mistakes. 
5) When you have free time, what are your hobbies?
I love spending time outdoors with my husband and our animals, and am an avid horseback rider.  On any given weekend, you will find me at the stable, out on a hike with our German Shorthair Pointer, on my bike, or stand-up paddleboarding somewhere in the beautiful Bay Area.