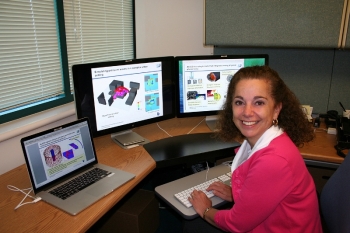 Dr. Rose McCallen is the Project Lead for the ALE3D Research and Development Team at Lawrence Livermore National Laboratory.
Check out other profiles in the Women @ Energy series and share your favorites on Pinterest.
Dr. Rose McCallen is the Project Lead for the ALE3D Research and Development Team at Lawrence Livermore National Laboratory (LLNL). In her 30 year career at the Lawrence Livermore National Laboratory, Dr. McCallen has been instrumental in leading agency collaborations, multi-laboratory collaborations, and school consortiums in shared mission-critical projects. Dr. McCallen's areas of research and development include the modeling of turbulent separating flow using large-eddy simulation, thermal convection at turbulent Rayleigh numbers, and computational modeling of coupled flow, heat transfer and solid mechanics phenomena. She received her Ph.D. and a MS in Mechanical Engineering from the University of California, Davis, a BS in Mechanical Engineering from California State University, Chico and in Mathematics from Saint Mary's College of California. She received a 2009 DOE National Nuclear Security Administration (NNSA) Recognition of Excellence Award, 2004 LLNL Computation's Leader Recognition Award, 2000 LLNL Engineering's Emerging Leader Recognition Award, and 1998 DOE/NNSA Weapons Recognition of Excellence Award. In 2010, Dr. McCallen completed a leadership program at the Hass Business School, University of California, Berkeley, CA.
1) What inspired you to work in STEM?
My favorite classes in school were math and science.  Our ability to mathematically characterize the physical world has always fascinated me.  I found it amazing that a simple relation like F=ma, can govern the movement of objects in the real world. The decision of where to focus my studies and career was a challenge with so many exciting opportunities in STEM. I chose computational science with mechanical engineering because I was intrigued by fluid dynamics and heat transfer in real world applications and our ability to simulate these phenomena in a virtual world.  The ability to translate mathematical relations into numerical methods and then to computer code and simulate real world phenomena on computers is incredible.
2) What excites you about your work at the Energy Department?
The most exciting thing about my work at LLNL is that each day presents new challenges requiring me to utilize my STEM education and experience. I am also proud that my work is important to our nation's security. As a Department of Energy Laboratory, Lawrence Livermore National Laboratory (LLNL) provides the opportunity to work in multi-discipline teams with recognized experts on the world's most challenging technical applications. During my career at LLNL, I have had the opportunity to work on a range of engineering applications from the aerodynamics of heavy vehicles to the design and safety of weapons for national security.
3) How can our country engage more women, girls, and other underrepresented groups in STEM?
Our country may need to support programs that work with parents, as well as students, to engage more underrepresented groups or first generation college students in STEM.  I believe the biggest influence for me pursuing and sticking with my dreams in STEM was my family. My parents believed in my potential to pursue my dreams and they told me that determination and hard work is all it would take.   My parents had to quit school to support their poor families at a very young age without even receiving a high school diploma. As a result, they highly valued education and had a strict work ethic.
I want to encourage those of us that have had the opportunity for education and careers in STEM to do what we can to inspire ALL that might be interested in STEM, including those from underrepresented groups.  I am currently working with the University of California, Davis on an advisory board for their Leadership in Engineering Advancement Diversity and Retention (LEADR) Student Center.  It may be helpful for our country and employers to provide incentives to those with education and careers in STEM to participate in similar activities.
4) Do you have tips you'd recommend for someone looking to enter your field of work?
The most important piece of advice is "don't give up and keep working towards that dream". I believe the first thing for students is to focus on their studies, work hard, and get good grades in all their studies, especially in math and science. If they are struggling, I recommend they get help from teachers, tutors, friends, and family. Also, start visiting colleges and make an appointment with counselors or professors for direction and advice. A person can start with their local colleges. Their college visits can expand by including this activity as part of summer vacations. I believe that kids are never too young to start college visits. Campuses have fun activities for all ages throughout the year.
During high school and college summers, I recommend applying for summer internships at any businesses or laboratories with STEM work opportunities. The Dpartment of Energy national labs have some of the best summer student intern programs. This can help the student meet peers with similar interests, receive one-on-one mentoring from STEM experts, and see what it's like to work in STEM.  Summer STEM activities look great on their resume and they will establish some references to use for future job searches.
5) When you have free time, what are your hobbies?
I reserve some fun time for my family. I enjoy going to cinema movies (especially SiFi), family dinners and celebrations, long walks, and picnics.  Competitive sports aren't my thing, but I do enjoy a weekly Zumba class and occasional bocce ball game, snow skiing, and ice skating.  I also find it fun to try new cooking recipes for a special weekend meal. Reading a novel (again, especially SiFi), knitting, and crocheting are other things I carve out some time to enjoy.