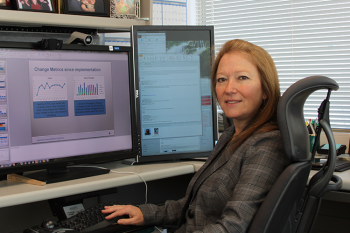 Robyne Teslich is the Information Technology (IT) Services Program Leader for the Chief Information Officer (CIO) at Lawrence Livermore National Laboratory (LLNL).
Check out other profiles in the Women @ Energy series and share your favorites on Pinterest.
Robyne Teslich is the Information Technology (IT) Services Program Leader for the Chief Information Officer (CIO) at Lawrence Livermore National Laboratory (LLNL). Robyne is responsible for defining, proposing, architecting, and delivering support and operations of LLNL's enterprise IT services (e.g., collaboration services, desktop and server support services, the IT Service Desk). She has more than 25 years of experience in management and technical roles at LLNL. She has led organizations that range in size from 10 to 200 people. Prior to her work in IT, Robyne worked as a system and applications software developer. She led the Data Storage Group in the Livermore Supercomputing Center and contributed to early development partnerships and technology transfer agreements for the LLNL-developed storage system (UniTree). Robyne has received numerous employee awards and recognitions and recently completed the UC Berkeley Extension Leadership Institute program. She has a B.S. degree in computer science and holds multiple IT Infrastructure Library (ITIL) certifications, including ITIL Expert. 
1) What inspired you to work in STEM?
I was the first person in my family to get a college degree. My father worked in the trades and always encouraged me to get an education. Math and science were always my favorite subjects in grade school because they were very definitive and logical. I actually thought I would go to college to become an accountant, but early in my college courses I took an Introduction to Computer Programming course and found it to be very challenging (like working a puzzle). I was hooked and continued on to complete my B.S. degree in computer science.
2) What excites you about your work at the Energy Department?
The mission of "Science in the National Interest." I work in a place that has the fastest supercomputers, one of the most powerful lasers, and contributes to the safety and security of our nation. I work in information technology, which is a fundamental part of everyone's job and is changing constantly. I love the challenge, the technology, and the people.
3) How can our country engage more women, girls, and other underrepresented groups in STEM?
Continue to provide role models and resources to help students understand the options and the path to get the necessary education especially students of under-resourced schools. Programs like Expanding Your Horizons and the DOE IT Job Shadow days are good community outreach programs that raise awareness.
4) Do you have tips you'd recommend for someone looking to enter your field of work?
Don't shy away from the "hard" courses in school. Challenge yourself and try different technical courses until you find something that you really enjoy. Seek out resources and mentors to help you navigate the educational system.
5) When you have free time, what are your hobbies?
In addition to spending time with my family, I have several hobbies. I am a private pilot and love to fly small planes to fun destinations like Las Vegas or Napa. I also love to sing and write music. I enjoy animals and nature and horseback riding. I'm a technology nut and like my gadgets. I also like sampling good food and wine from the various wineries and restaurants near my home in the San Francisco Bay Area.