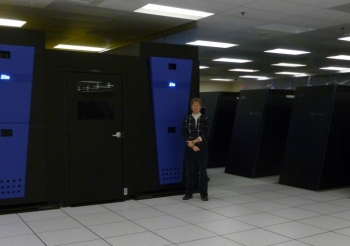 Robin Goldstone is a computer scientist working in the High Performance Computing (HPC) division at Lawrence Livermore National Laboratory (LLNL).
Check out other profiles in the Women @ Energy series and share your favorites on Pinterest. 
Robin Goldstone is a computer scientist working in the High Performance Computing (HPC) division at Lawrence Livermore National Laboratory (LLNL). Robin is a member of LLNL's HPC Advanced Technologies Office where she is involved in technology evaluation and planning for next generation HPC systems, as well as developing novel architectures for Data Intensive computing.  She was previously involved in the "hands on" deployment of some of the world's fastest supercomputers, including ASCI White and BlueGene/L.  In 2004-2005 Robin worked on assignment in the Advanced Simulation and Computing (ASC) Program office at NNSA headquarters in Washington, DC where she was instrumental in the development of ASC's tri-lab linux cluster software strategy. Robin holds a Master's Degree in Computer Science and is a certified Project Management Professional.
1) What inspired you to work in STEM?
My dad was an engineer who worked for a CAD company.  He took me there when I was about twelve and showed me these amazing machines that drew engineering diagrams driven by computer software.  It was an eye opening experience, especially since prior to that I thought my dad drove a train. :)
2) What excites you about your work at the Energy Department?
DOE is at the forefront of science and technology and it is exciting to be a part of it!  I have helped design and build some of the world's fastest supercomputers - how many people get to say that?  I am surrounded by smart people from all disciplines: physicists, engineers, mathematicians and computer scientists all working together to solve some of the world's most challenging technical problems.  It is exhilarating and rewarding.
3) How can our country engage more women, girls, and other underrepresented groups in STEM?
The thing that helps the most, from my experience, is giving girls hands-on exposure to science and a chance to meet women scientists who can convey excitement and passion about the work they do.  I have been working with Expanding Your Horizons, a fantastic program that encourages young women to pursue STEM careers. My daughter, age 11, went to one of their workshops for the first time last year and it was such an empowering experience for her.  I am also a big fan of the FIRST Robotics Program.  Robotics is a "cool" way to spark girls' interest in engineering and computer science, as well as teaching them problem solving skills and the value of teamwork.
4) Do you have tips you'd recommend for someone looking to enter your field of work?
Assuming the "someone" is a woman, my advice is: Don't be intimidated. Take a seat at the table and put your ideas out there. Women often bring a unique perspective or a different approach to problem solving. In a profession dominated by men, it is easy for women's voices and ideas to get drowned out.
5) When you have free time, what are your hobbies?
My main hobby these days is woodworking.  I have been working my way up over the years from general home improvement and carpentry projects toward more "fine woodworking" skills.  Right now I am building a dining room table out of  70 year old salvaged barn wood.  My motto is: every new woodworking project is an excuse to buy another tool!