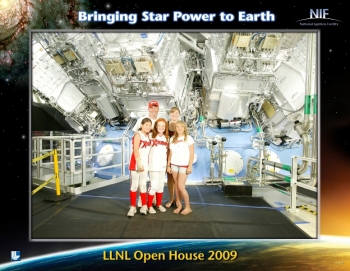 Renée Breyer is the Deputy Associate Director for the Strategic Human Resources Management Directorate and the Benefits Plan Administrator for the Lawrence Livermore National Laboratory.
Check out other profiles in the Women @ Energy series and share your favorites on Pinterest.
Renée Breyer joined Lawrence Livermore National Laboratory in 1992 in STEM, starting in Finance and providing Information Technology services and management for the financial systems in the CFO organization. In 2002, Renée transitioned to the management of Human Resources Information Systems and subsequently as the Strategic Workforce Division Leader managing Recruitment, Employment, Compensation, and HR Information Management. Renée's contributions to STEM now occur on a daily basis as the HR organization hires, trains, and retains the best and brightest STEM staff in the world to work at LLNL. In March 2011, Renée was selected as the Deputy Associate Director for the Strategic Human Resources Management Directorate and the Benefits Plan Administrator for the Laboratory.
She has a bachelor of science in Managerial Economics from the University of California at Davis and is certified as a Senior Human Resource Specialist, Project Management Professional and Six Sigma Champion.
1) What inspired you to work in STEM?
I was passionate about math and science throughout my childhood and through college.  I was one of those kids that always loved school and had a perfect attendance record because I could not imagine missing out on learning something in one whole day of school.  After college, going into information technology was an amazing way to put together my capabilities to analyze data, develop system capabilities and interacting with people to bring together a solution. 
2) What excites you about your work at the Energy Department?
I have now worked for LLNL and supporting the DOE for almost 22 years.  My career at LLNL has been a constant stream of projects, challenges, and opportunities.  The cross functional team structure at LLNL has given me the exposure to work with scientists and functional staff across the laboratory.  With these incredible opportunities to develop new solutions, my work has never been boring.  LLNL has provided an incredible opportunity for me to constantly learn and grow both as a leader and a team member as my career moved into various new areas. Most importantly, I know that my career contributes to the mission of LLNL.  Few institutions help ensure the safety and security of our nation the way we can and do. We come to work to make a difference through the advancement and application of world-class science and technology.  
3) How can our country engage more women, girls, and other underrepresented groups in STEM?
At LLNL one of our most challenging issues continues to be the recruiting and retention of women into STEM.  For female students to consider a STEM career, they need personal encouragement from instructors or counselors at an early age.  In addition to hearing encouraging words from instructors and counselors, women need to see—in posters, videos and career events with women actually working in STEM disciplines—what a typical day looks like for women employed as technicians in STEM workplaces.  Women need proactive personal encouragement and positive media messages. Once hired on at companies, there needs to be a continued positive and inclusive environment provided. So often in the STEM environment women must be strong to continue to break through company culture issues to move up and become successful. Ultimately, success will happen when the corporate culture shifts to welcome the successful STEM women rather than to hold this progress back.
4) Do you have tips you'd recommend for someone looking to enter your field of work?
The few tips that I would recommend include:  keeping a positive attitude, maintaining constant perseverance and continued learning. 
5) When you have free time, what are your hobbies?
Spending time with my family – we enjoy snow skiing (snowboarding for the kids), vacationing, and baking.  In my own spare time, I enjoy running and working out.