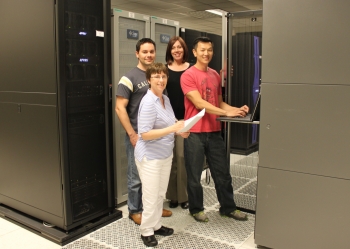 Rea Simpson is a Group Leader for the Core Services Group (CSG) and Assistant Division Leader for the IT Solutions Division in Computations.   CSG is responsible for a number of institutional IT services under the CIO Program including Active Directory, FrontRange, the IT Configuration Management Database (CMDB) and foundational networking functions such as the Domain Name System (DNS) and Dynamic Host Configuration Protocol (DHCP).  Rea works with the Service Owners in her group and other Service Owners across the CIO program to enhance and upgrade the services to meet LLNL business needs.  She is responsible for project management functions and ensuring that her group's services meet the service level targets identified in the Service Level Agreements with customers. Rea has over 32 years of experience in the computing field and has worked in LLNL's IT infrastructure organizations since 1991.  She has been responsible for or a key contributor of a number of transformational efforts at LLNL including the migration to Microsoft Exchange and deployment of mobile devices. In 2012 Rea earned the Project Management Professional (PMP) and ITIL Expert Certifications.
1) What inspired you to work in STEM?
I started working at LLNL as a student when University of California, Davis had a campus at the LLNL site.  I decided to continue my career at LLNL after graduation because I believe in the mission of the National Labs and really enjoyed working at a place that benefits the Nation.
2) What excites you about your work at the Energy Department?
I have always enjoyed science and LLNL is a great place to work to get exposed to many cutting edge projects in the science and technology fields.  Although I am in IT and not working on science projects directly it is exciting to know that my work enables the scientists to get their work done. 
3) How can our country engage more women, girls, and other underrepresented groups in STEM?
Supporting outreach programs like Expanding Your Horizons which reaches out to middle school age girls to get or keep them interested in math and science is one way.  Another way is encouraging the scientists to reach out in their community.   Livermore has Science on Saturdays where local scientists give presentations and demonstrations at the local community theater.
4) Do you have tips you'd recommend for someone looking to enter your field of work?
Work hard in school and take classes that prepare you for college.  Focus on learning even if the class doesn't seem like something you will ever use in your work life.  All knowledge has value.  Also find a mentor.  Read a lot and make sure you read some non-fiction books.  Read biographies of people you look up to or aspire to be like.
5) When you have free time, what are your hobbies?
Reading is one of my favorite hobbies.  I'm always reading one book and listening to another.  I'm in two book clubs which is wonderful since I really enjoy talking to others about the books I've read.  I also like to hike and bird watch.