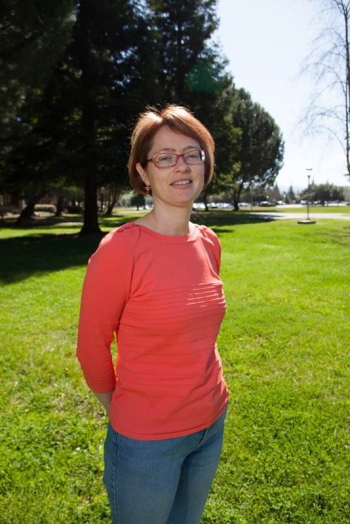 Pascale Di Nicola works at the National Ignition Facility (NIF) and is in charge of a working group for pointing performance and is a core member of the Target & Laser Interaction Sphere.
Check out other profiles in the Women @ Energy series and share your favorites on Pinterest.
Pascale Di Nicola works at the National Ignition Facility (NIF) and is in charge of a working group for pointing performance and is a core member of the Target & Laser Interaction Sphere. Since 2011, in parallel to these activities, she has been supporting Operations for Target and Beam Alignment to the NIF Target Chamber Center. Pascale has held a variety of key positions and responsibilities in the semiconductor industry as R&D lead scientist in a silicon wafer reclaiming facility at the French Atomic Energy Commission (CEA) as a target fabrication scientist overseeing the target assembly and metrology technical staff. She fabricated, assembled or metrologized targets for experiments conducted on five different large laser facilities for various institutions like CEA, Laboratoire d'Utilisation des Laser Intenses (LULI), Laboratory for Laser Energetics (LLE) University of Rochester and Lawrence Livermore National Laboratory (LLNL).
She began participating at the National Ignition Facility (NIF) as an Invited Scientist in 2008, when the first system shot to Target Chamber Center, and was hired by LLNL in 2009 to improve the beam pointing performance of the NIF facility. In 1995, she earned her M.S degree in Solid State Physics and Chemical Engineering at the Institute of the Sciences of Matter and Radiation and at the National Superior Engineering School, Caen University, France. The same year, she also earned a Diploma of Advanced Studies in Solid State Physics, Caen University, France.
1) What inspired you to work in STEM?
I have always loved science in general; mathematics, physics, and chemistry were my favorite classes in High School. I love thinking through a problem to figure out how to break it down into smaller ones, in a similar way to the steps you define in a math demonstration or in a program; solving each of them step by step and then making sure the whole ensemble fits together and gives me the answer I need.
In France, these three topics are tied together as a science package in school. I wanted to study organic chemistry to become a fragrance designer, so I followed the science path in High School and joined a school where both organic and inorganic chemistry were taught, along with math, nuclear physics, solid state physics, electronics, computer science and more. There I discovered that there were some areas in chemistry that were way more interesting to me than the smelly organic chemistry, like the crystallography, the semi-conducting materials, and the supra-conductors. So I guess I diverted a little bit from the initial path I had chosen.
2) What excites you about your work at the Energy Department?
The diversity of the fields that can be investigated is really unbelievable. I used to work on the prototype for the French sister facility to NIF, so I was aware of the fabulous work that had been and is still in progress here in the High Power Lasers and High Energy Density science domains here at LLNL. I am sure I know only a very tiny part of what is getting done for the Department of Energy, as I am mostly reading about the LLNL but, even considering only this Lab's contribution, when you look at all the amazing work being done for the synthesis of new heavy elements like the Livermorium or the projects that are already improving people's life like the artificial retina, it is mind-blowing. More importantly, what I really enjoy the most about my work for the Department is being part of a team assembling among the brightest specialists of each field, brought together to tackle a crucial but extremely difficult problem that nobody solved before. Then you can't help wanting to be a part of it.
3) How can our country engage more women, girls, and other underrepresented groups in STEM?
I believe it is all about explaining them how broad and interesting STEM is and helping them figure what piece of it could become their passion. This is why I think programs like Science on Saturdays and Tri-Valley Expanding Your Horizons Conference are so important. There, the kids are exposed to Science in a way that makes it look easy and fun, because it is all about having fun and feeling lucky to work in an area where you learn, make progress and feel useful every day. They will have to learn other things along the way and maybe they will also need or want to divert from their initial path as I did, but that will be the choice they can make once they have figured what their passion is. Once you know where to go, it is easier to get there, especially if you are supported by teachers and mentors who believe in you and help you build your self-confidence.
4) Do you have tips you'd recommend for someone looking to enter your field of work?
Find yourself a good mentor, somebody who will engage you in pushing your limits and will know what you can do even when you feel you are not able to. Look for what talents you have in your team, as there is a lot to learn from them too. Be passionate about what you are doing, feel responsible for your work, be proud of what you achieve but remember that this is more often a team effort than an individual success.
5) When you have free time, what are your hobbies?
When I have some, I spend most of my free time with my children (I have a 15 year-old son and a 13-year-old daughter), helping them with their academics, teaching them how to cook or doing crafts: making jewelry, beads with polymer clay, knitting or crocheting. I also love reading, in particular about the Middle-Age and Renaissance times.