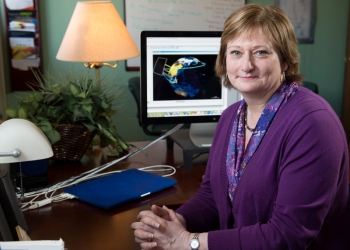 Pamela Sydelko is the Deputy Associate Laboratory Director for Energy Engineering & Systems Analysis at Argonne National Laboratory.
Check out other profiles in the Women @ Energy series and share your favorites on Pinterest. 
Pamela Sydelko is the Deputy Associate Laboratory Director for Energy Engineering & Systems Analysis at Argonne National Laboratory. Pamela's role within the Energy Engineering & Systems Analysis Directorate is to assist in strategic planning, research coordination and program development.  She supports development of initiatives and encourages innovations that lead to new research opportunities across basic and applied sciences and engineering programs. Pamela earned her MBA from the University of Chicago and her M.S. in soil science from the University of Illinois at Urbana-Champaign, where her research focused on coal mine reclamation. She joined Argonne in October 1989, coming from the U.S. Army Engineering Research and Development Center – Construction Engineering Research Laboratory in Champaign-Urbana. Pamela has expertise in systems-level research and technology aimed at developing innovative modeling, analysis and decision support tools / technologies including the development of integrated multi-component software systems.
1) What inspired you to work in STEM?
I have always wanted to be a scientist ever since I was in grade school. When I took my very first Biology class in junior high, I knew that was what I wanted to do.  In high school, I had an Advanced Biology teacher that really inspired me to pursue Botany and Plant Ecology in college, where I became very interested in ecosystems and land-use impacts. I am driven to apply my scientific knowledge to solving real-world problems even when they are complex.  Therefore, in graduate school, I further broadened my expertise by getting a degree in Soil Science and did my research on land reclamation approaches.
2) What excites you about your work at the Energy Department? 
Since starting my professional career, I have been very driven to apply systems thinking and interdisciplinary approaches to solving large problems. I have specialized in the development and application of integrated modeling and simulation approaches to complex systems.  DOE and the national laboratory system offers a great deal of opportunity to work either as a basic scientist working to further knowledge in their field or in a team setting where several discipline specialists are brought together to address large complex problems facing the nation. It is this interdisciplinary team environment that excites me the most.  I have had a very fulfilling career at Argonne National Laboratory, where I have been fortunate to be able to interact and work with extremely talented scientists and engineers from a very broad set of disciplines. 
3) How can our country engage more women, girls, and other underrepresented groups in STEM?
I believe a very effective way to give young girls and underrepresented groups an opportunity to imagine themselves in science careers is to get them into laboratories and other places where they can meet passionate scientists and experience the excitement of innovation and discovery.  I also think giving working scientists and engineers the time and opportunity to get out and be involved in schools and science fairs would be very influential.  It can't be just teachers that spark and inspire, but in collaboration with career scientists and engineers from diverse fields, a student can get a better picture of how fulfilling these careers can be. In addition, we need to nurture and mentor the women we do recruit, especially during early to mid-career when we often see women opting out due to starting families or having dual-career issues.
4) Do you have tips you'd recommend for someone looking to enter your field of work?
I would encourage students to think big.  Many universities now offer programs in interdisciplinary studies, which didn't exist when I was in school.  Our world is full on complex interdependent problems that need scientists who are systems-level thinkers and that can work effectively in teams.  Problems such as climate change, energy security, environmental sustainability, food and water resource protection, national security, and human health are just a few examples needing a team approach to addressing.  I can think of few things as rewarding as being a part of a team or perhaps leading a team that is solving these tough problems.
5)   When you have free time, what are your hobbies? 
I really enjoy gardening in my native prairie I planted in my back yard.  I also love hiking, nature photography, and am just beginning to take art classes at the Morton Arboretum near my home.