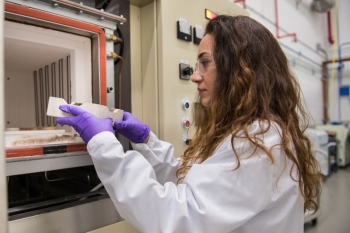 Metallurgical and Materials Engineer Ozgenur "Ozge" Kahvecioglu Feridun works on scaling advanced cathode materials for lithium-ion batteries at Argonne's Materials Engineering Research Facility.
Check out other profiles in the Women @ Energy series and share your favorites on Pinterest.
Dr. Ozgenur "Ozge" Kahvecioglu Feridun is a metallurgical and materials engineer with the Process Technology Research Group in the Energy Systems Division, where she works on scaling advanced cathode materials for lithium-ion batteries at Argonne's Materials Engineering Research Facility (MERF). In 2010–2011 at Argonne, Ozge worked on the design and construction of an advanced boriding furnace. Material selection and optimization of process parameters for the pilot-scale and industrial- scale units resulted in a 4-ton furnace that operated at 900–1000 °C. Ozge ensured that the construction materials could withstand the intense temperatures without degrading mechanically, physically, or chemically over time. She also experimented with using a less corrosive, more efficient electrolyte that additionally required less electricity and allowed for better control of the end product. The furnace was subsequently licensed to an industrial partner and won an R&D 100 Award in 2012.
She holds a B.S. in metallurgical and materials engineering, an M.S. in extractive metallurgy, and a Ph.D. in materials science and engineering, all from the Istanbul Technical University in Turkey. Ozge now resides in Woodridge, Illinois, with her husband and their cat, One.
1) What inspired you to work in STEM?
My father, a mechanical engineer, has always been an inspiring role model for me. One time, he made me watch a black-and-white movie about a crazy professor in a chemistry lab. The movie showed the professor having fun while mixing liquids, generating vapors, etc. Even when something went wrong, and he had to start again, he didn't lose his enthusiasm. It has been truly inspiring for me to get into STEM.
2) What excites you about your work at the Energy Department?
The challenges that come up when you least expect them—they stimulate your creativity. It's very rewarding when the solution you helped develop solves the problem.
3) How can our country engage more women, girls, and other underrepresented groups in STEM?
Two simple ways: listen to them and mentor them.
4) Do you have tips you'd recommend for someone looking to enter your field of work?
Diversity in background always helps. No matter what you end up doing, a diverse set of skills will provide you with the ability to approach problems in novel ways that perhaps help you find a solution more quickly.
5) When you have free time, what are your hobbies?
I love to play with my cat, One.