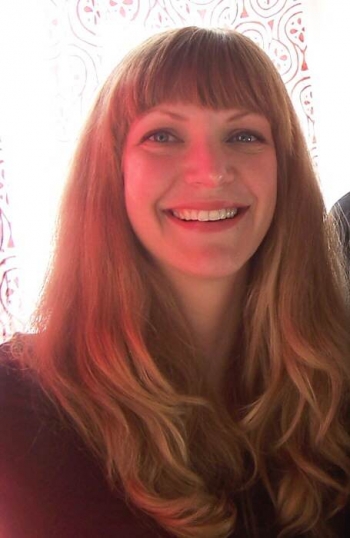 At Argonne National Laboratory, computational biologist Nicole M. Scott studies the relationship between patterns of microbes and diseases or environmental contaminants.
Check out other profiles in the Women @ Energy series and share your favorites on Pinterest.
Nicole M. Scott, a computational biologist, works at the Institute for Genomics and Systems Biology at Argonne National Laboratory. She is an expert in experimental design and statistical data analysis and in developing statistical methods that help us understand the patterns of genetic variation in genetic data. Scott's work in microbial ecology looks at the relationship between patterns of microbes and diseases (like autism spectrum disorder or obsessive compulsive disorder) or microbes and environmental contaminants (like oil). She is interested in how abnormal processes affect normal ecological and nutrient processes and how we can use bacteria as sensitive biological indicators for environmental change. Nicole holds a bachelor's degree in biology and anthropology as well as a master's degree in public health, both from the University of Pittsburgh. Her doctorate, in population and statistical genetics, comes from the University of Michigan.
1) What inspired you to work in STEM?
I had a few really good mentors in my college biology department who encouraged me to pursue research. They helped me to see that STEM fields are intellectually challenging and result in outcomes that have value.
I knew that whatever profession I would eventually choose, it would have to be one that was complex and forced me to push myself. I'm lucky I have such a career! 
2) What excites you about work at DOE?
Work at DOE is extremely collaborative! And because of this, you can find yourself working on a project or interacting with people from totally different backgrounds and training. It's exciting to be exposed to new ideas and perspectives. This variety of perspectives creates a unique environment that results in cutting-edge work. While we still need more women working in national laboratories, the women I interact with are supportive, creative, and hard-working.
3) How can our country engage more women, girls, and other underrepresented groups?
During my workplace training my mentors weren't women; it's only been in the last year or so that I've had some female mentors. That being said, I don't think you necessarily need a female mentor if you're a woman interested in STEM—you just need someone to believe in you.
I think the best thing we can do is to increase the mentorship of those entering STEM fields. I think people should see STEM as the best thing they could do for themselves. For one thing, even in the current economic climate, jobs are available. Second, STEM careers create value. What's more, STEM jobs offer good salaries, and give women independence and freedom to pursue the lives they want.
4) Do you have tips you'd recommend for someone looking to enter your field of work?
Don't be afraid to "toot your own horn." Too many times I've found myself—and other women I know—being overly critical of their own work. Also, don't be afraid to do things that you might not naturally excel at. If you really want to work in a specific field or learn something new, you can do it if you're creative about finding the best resources. The resources are out there: you've just got to make the effort to find them.
5) When you have free time, what are your favorite hobbies?
I love cycling! I'm not a competitive rider or a speed demon, but I love 40-mile-plus "ramblers" when I get a chance. When I have less time—for example, after work, when the weather cooperates—I really love the 9.5-mile limestone trail, known as "Waterfall Glen," that circles Argonne National Laboratory.
I also really love cooking. One of my favorite things is to have some friends over for a meal. I have been cooking since I was a small child, experimenting with classic techniques and my own recipes. I also really love art—especially realists from the past century or so. I think it's important that, no matter what your career or what you study, you take time to appreciate the beauty that is captured in art.