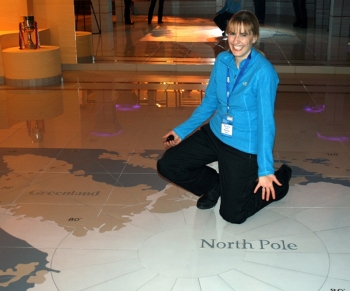 Attending a conference in the Russian Arctic, Meredydd Evans of Pacific Northwest National Laboratory visited Russian gas production facilities in the Arctic in Western Siberia.
Check out other profiles in the Women @ Energy series and share your favorites on Pinterest. 
Fluent in five languages, Meredydd Evans at Pacific Northwest National Laboratory is internationally known for energy efficiency and clean energy policy work. She manages a program on international sustainable energy, including work in building energy codes, greenhouse gas mitigation and clean energy investments. Recent accomplishments include work on projects and policies to reduce methane and black carbon, with an analysis of international best practice policies on coal mine methane mitigation the Ukrainian parliament used to develop legislation. Her team recently presented two webinars viewed by over 28,000 people on energy efficiency in public buildings and energy performance contracting for the Russian Energy Agency. This engagement is used by the agency to attract private investment for energy-efficiency improvements in government buildings. Meredydd has written books, reports and journal articles on energy efficiency. Meredydd is a member of the International Energy Agency's Policy Pathways on Building Energy Codes steering committee. The committee reviews draft publications and provides guidance for improvement. In 2012, the IEA launched a research program to develop an energy model that assesses the impacts of implementing building energy efficiency policies. The policies include energy savings, carbon dioxide emission reduction, costs, and job creation. Meredydd earned a bachelor's from Columbia University and a master's from Harvard University.
1) What inspired you to work in STEM­­?
As a teenager, I really enjoyed spending time outdoors. I enjoyed both biology and social science in high school. It took me several years in college to figure out how to merge the two, but it was satisfying when I did find a way, through environmental coursework. In college, I began to learn more about the impact that people have on their environment. This very much hit home through summer internships that focused on pesticides and farm workers, and a semester abroad in Moscow, Soviet Union. I decided I wanted to contribute to reducing our environmental impact through objective research.
2) What excites you about your work at the Energy Department?
I love the fact that we can work on a range of topics and projects. I am constantly working with people in other fields and other countries, which means learning new things and gaining a bigger picture.
At PNNL, I can conduct research that has a real impact. I have worked with governments and companies in many countries on improving energy efficiency and reducing greenhouse gas emissions. The work requires close coordination between engineers, economists, policy experts, and technical experts in various science areas. At the end of the day, it is satisfying to see someone use this joint effort to reduce pollution by changing a policy or a practice. For example, China recently adopted a new building energy code for rural buildings that accounts for about 65 percent of building energy use in China. We collaborated with several institutions in China on how to make implementation of such a code feasible, which was a key government concern before they adopted the code.
3) How can our country engage more women, girls, and other underrepresented groups in STEM?
Mentoring is important. I volunteer in several capacities to help underrepresented high school students conduct environmental science projects through a program called EnvironMentors. It is wonderful to see the students' accomplishments. In my own career, I had several science teachers encourage me in very helpful ways. It can be very empowering to learn from someone else in a nurturing setting, where it is okay to ask questions and observe new things.
4) Do you have tips you'd recommend for someone looking to enter your field of work?
Find something that you love and you think is important. Understand the broader context of your research to communicate it effectively, and seek out opportunities to work with people of different backgrounds. Many of the most challenging science questions yet unanswered require looking at things from new or multiple perspectives.
5) When you have free time, what are your hobbies?
I enjoy swimming, biking, running, reading, and spending time with my family. I appreciate bike rides with my son along the Potomac River or walking with my family in a nearby forest.