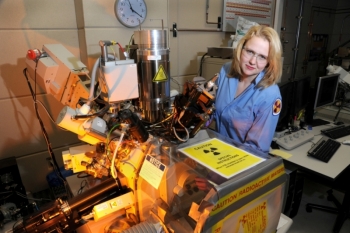 Melissa Teague is a nuclear material scientist at Idaho National Laboratory, working on a technique to analyze high burn-up fuels.
Check out other profiles in the Women @ Energy series and share your favorites on Pinterest.
Melissa Teague knows the importance of thinking outside the box — and sometimes, even taking it apart altogether. As a nuclear material scientist at Idaho National Laboratory, she is working on a technique to analyze high burn-up fuels. Her approach involves taking fine slices of cubes in order to image them. This research earned her the Young Scientist Award at the European Materials Research Society Spring Symposium. It is her passion for science and learning that has fueled her path: she holds a Ph.D. in Materials Science from the Colorado School of Mines, and an M.S. and a B.S. in Ceramic Engineering, both from the University of Missouri-Rolla. She was recently recognized for her record of academic and research excellence as an MIT Rising Star in Nuclear Science and Engineering.
1) What inspired you to work in STEM?
I fell in love with science in high school chemistry class with Mr. Brooks (at Hickman High School in Columbia, MO), I knew I wanted to do something in science and engineering. I love being able to solve problems and figure out how things work. I also was attracted by the fact that I could make a good living doing something I really enjoyed. My mom says she could always tell I was going to be an engineer - I didn't play with toys the way they were intended, I typically tore them apart and made new things out of them. I have always enjoyed learning about the world around me, and by going into a STEM field I get to do that for my job.
2) What excites you about your work at the Energy Department?
I am excited to be doing research that could help solve the energy needs of the U.S. and the world. I get to be in a lab and do real work that could really make a difference in our understanding of how things work. I get paid to do what I love — can't beat that.
3) How can our country engage more women, girls, and other underrepresented groups in STEM?
I think highlighting successful women in STEM careers will help. Having role models is important to show girls that it can be done. Also I think we need to reach out to middle school age kids (that age when the gap between girls and boys in science/math begins to appear) to engage them in science and math. Show them you don't have to be a ditz to be popular and that women are just as good at math and science as men.
4) Do you have tips you'd recommend for someone looking to enter your field of work?
Don't be afraid to try things, ask for the internship or job even if you don't think you can get it. I started working for a professor my first semester of college. I didn't think I had a chance of him hiring me but I still asked. Internships and working experience are so important to help you figure out what you want to do and gain real-world experience of all the classes you take. It can really help steer you towards what you want to do.
5) When you have free time, what are your hobbies?
Free time, what's that?!  I kid. I enjoy playing with my daughter, quilting, reading books, and hiking outdoors.