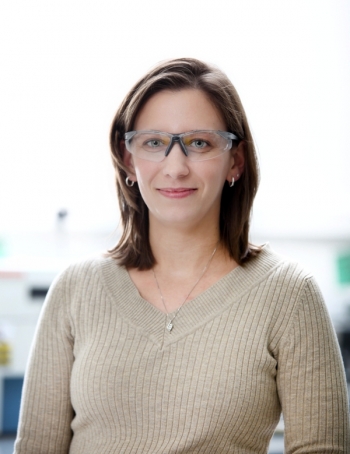 Melanie Moses DeBusk is leading ORNL's project on membrane-based water recovery from engine exhaust for both potable water and improved engine efficiency applications.
Check out other profiles in the Women @ Energy series and share your favorites on Pinterest. 
Melanie Moses DeBusk came to Oak Ridge National Laboratory in 2004 as a post-doc after receiving her Ph.D in Chemistry from the University of Maryland, College Park. She received her BA in Chemistry from Bellarmine College (now Bellarmine University) in 2000. As a post-doc, her research interests focused on heterogeneous catalysis with special emphasis on automotive exhaust after treatment catalysts. In 2007, Melanie became a staff research scientist in ORNL's Material Science and Technology Division. Her research interests have expanded to include membrane-based separation techniques and strategic materials sustainability.  She is currently leading ORNL's project on membrane-based water recovery from engine exhaust for both potable water and improved engine efficiency applications.
1)  What inspired you to work in STEM?
I had a very engaging chemistry teacher, Kevin Brown, in high school who inspired my choice to major in chemistry in college.  He made chemistry fun through hands on experiments that we could easily relate to our everyday lives. While I attribute my time at Assumption High School in Mr. Brown's chemistry classes to what first inspired to work in STEM, my research experience in college is what first ignited me my interest in scientific research. This interest was further fueled and focused by a very dynamic advisor, Bryan Eichhorn, in graduate school that resulted in me going into scientific research as a career path.
2)  What excites you about your work at the Energy Department?
Work at a Department of Energy national laboratory has given me the opportunity to work in a variety of different areas that can make an impact on our lives and our country.  In the 8+ years I have worked at ORNL, I have been involved in projects related to spent nuclear fuel, reducing vehicle emissions, and producing potable water from diesel exhaust, to name a few.  Additionally, this work has spread from some basic, fundamental research to applied applications. Where else can you work on such a wide range of topics in such short time?
3) How can our country engage more women, girls, and other underrepresented groups in STEM?
Kids seemed to be forced to choose career paths early and early these days. I think it is important in the early years like elementary and middle school as well as high school to not just explain the basic building blocks of science but to show examples they can relate to in their daily lives. Physical demonstrations and activities that involve the student will go a long way to exciting them pursue careers in STEM. For this to happen, we need to provide opportunities for teachers of these early grades to learn about different experiments and activities they could use to engage their students. Good examples of this are the teacher camps that have been offered by ASM International and the Oak Ridge Chapter of ASM. However, offering these opportunities is only part of it. Effort to make the elementary and middle school teachers aware of the opportunities is also necessary.
4) Do you have tips you'd recommend for someone looking to enter your field of work?
I think the big thing I would recommend to those looking to enter this field is not to just look at what you do in a classroom when picking which area to focus on.  Take time to explore the types of jobs that those in different disciplines hold. While what you learn provides you with the knowledge necessary for a STEM job, they often are not good examples of what your regular work responsibilities will include. Participating in internships is a good way to learn what a job in certain STEM field might be as well as providing you with mentors.  Never pass up an opportunity to develop a relationship with a new mentor. Getting input from those currently in the field can be invaluable.  
5) When you have free time, what are your hobbies?
I spend most of my free time with my two daughters (2yr & 4yr old), so a lot of my free time involves singing, dancing, coloring and answering and endless list questions. Before my girls were born, I enjoyed playing indoor soccer.  Now I am happy to find some quite time to read.