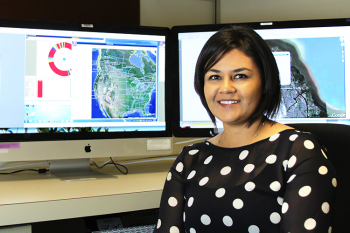 Marisol Gamboa is a Computer Scientist working for the Global Security Directorate at Lawrence Livermore National Laboratory.
Check out other profiles in the Women @ Energy series and share your favorites on Pinterest.
Marisol Gamboa is a Computer Scientist working for the Global Security Directorate at Lawrence Livermore National Laboratory.  She earned her Bachelors of Science degree in Computer Science from the University of New Mexico in 1998.  She leads a team of software experts responsible for developing tools that help Department of Defense personnel distill, combine, relate, manipulate, and access massive amounts of data in a timely manner.  Marisol is an advocate of leveraging publicly available software where possible to focus limited budgets, time, and manpower on mission-unique challenges. 
1)  What inspired you to work in STEM?
My inspiration to work in STEM came from participating in the New Mexico Supercomputer Challenge while in high school.  The challenge introduced me to a new world and provided an opportunity to experience it first-hand.  With help and encouragement from teachers and mentors, I learned about directly developing software to solve problems.  When I felt the power, joy, and fulfillment of solving a difficult problem, I was hooked.  I still thrive on solving difficult problems and live for it!
2) What excites you about your work at the Energy Department?
The most exciting part of my work is the dynamic, ever-changing challenges we encounter as software developers.  My team works with the latest software and technologies to create solutions unique to global security.  Great challenges and brilliant people working together to serve a great cause; I can't ask for much more.
3) How can our country engage more women, girls, and other underrepresented groups in STEM?
Create more opportunities for everyone to experience the possibilities STEM offers.  Demonstrate by example how it impacts the world we live in and how it opens up new possibilities.  The experience of personally solving a problem with software I created had a profound impact on me, much more so than simply hearing or reading about computer scientists. 
4) Do you have tips you'd recommend for someone looking to enter your field of work?
Knowledge is power, take every opportunity to learn or experience something new.  You never know what you could be good at or what will fulfill you until you try it. 
Embrace your differences; what makes you different is what you bring to the workforce.  A different or unique way of thinking always equals better solutions. 
5) When you have free time, what are your hobbies?
I enjoy trying new foods, cooking and traveling.  I have three children – they love hotels and always need to eat!