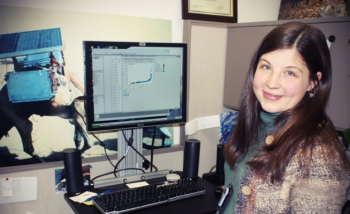 Marie Rinkoski Spangler is an electricity analyst working at the U.S. Energy Information Administration (EIA).
Check out other profiles in the Women @ Energy series and share your favorites on Pinterest. 
Marie Rinkoski Spangler is an electricity analyst working at the U.S. Energy Information Administration (EIA).  She has worked for EIA since 2008, initially working closely with survey data collection before moving into electricity market analysis and writing for Today in Energy, working with a variety of EIA clients, from private citizens to journalists to industry consultants to Congressional and White House staff.  Previously, she worked as a teaching assistant and adjunct faculty at a mix of colleges and universities teaching physics and mathematics courses, as well as editing a set of test preparation books for airplane mechanics.  Marie earned her B.A. in physics from Oberlin College (as well as a B. Mus. in clarinet performance), followed by a M.S. in solid state physics from Cornell University. 
1) What inspired you to work in STEM?
Early on, I was always interested in digging down to the very basic, elemental expressions of the world around me—that is what drew me to physics.  That, and reading science fiction.  I do remember taking a tour of research labs at a nearby university, while in high school, and getting a demonstration of sonoluminescence that just blew my young mind.  I signed up for AP Physics the next year.  Later on, I became more interested in complex systems and points of interaction of physical laws with human behaviors and social structures—what drew me to the electricity industry. 
2) What excites you about your work at the Energy Department?
Working at the Energy Information Administration, I have access to huge amounts of data.  I'm very lucky.  I get to identify interesting questions and then go figure out what the answer is.  I also typically spend a lot of time educating (e.g. the public, journalists, government staff) which I consider essential—there's no better way to solidify what you think you know than to explain it in plain terms to someone else. 
3) How can our country engage more women, girls, and other underrepresented groups in STEM?
This is something I think about with my own children and their friends and schoolmates.  My children are young now, so I concentrate on giving them opportunities to investigate things (anything, physical phenomena included) and helping them develop an approach to problem solving and figuring things out for themselves.  We build things together, and talk about what machines do. 
4) Do you have tips you'd recommend for someone looking to enter your field of work?
As you are taking STEM courses, realize that you are learning more than just the topic material.  You're learning how to define and solve problems, and how to use mathematical tools.  These abilities will make you particularly desirable as an employee—whether or not you end up working in the field you are studying now.  Work on your data analysis skills.  Also, keep up your writing skills and communication skills—there are not many STEM jobs out there that don't involve communicating your ideas to others. 
5) When you have free time, what are your hobbies?
Wait, what is free time again? 
I spend a lot of time with my family, playing music, swimming, hiking, and I read constantly.  I like to work at my children's school as often as possible.  I play with food, and I'm learning to knit.