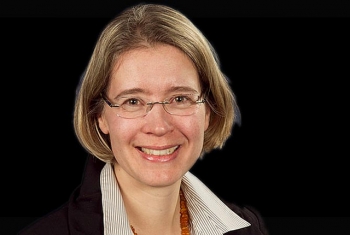 Los Alamos aerospace engineer Marianne Francois' ability to model the complexity of nuclear weapons systems through advanced numerical methods play an important role in supporting nonproliferation efforts.
Check out other profiles in the Women @ Energy series and share your favorites on Pinterest. This feature is cross-posted from Los Alamos National Laboratory's Women Who Inspire series.
With her eyes on the sky, Marianne François left pastoral Normandy in the French countryside to study flight. She landed in Florida, where she obtained her master's of science in aerospace engineering. She followed with doctoral studies at the University of Florida. Throughout college, she was inspired by research at one of the largest scientific institutions in the world: Los Alamos National Laboratory, where she is now a deputy group leader.
In the Lab's Theoretical Division, François helps lead the group that researches fluid dynamics and solid mechanics. Understanding how fluids flow and interact with their surroundings is important to daily life. Ocean currents, tornadoes, water vapor that an airplane or car encounters—even the flow of blood through the cardiovascular system—are all guided by fluid dynamics.
Additionally, François and her group study materials and climate modeling and create large-scale computational simulations. They couple advanced numerical methods with models to better understand physical processes such as turbulence, heat transfer, chemical reactions, phase change and plasma behavior.
A civil air patrol pilot, François also volunteers for search and rescue missions. On ground, she leads the aviation and aerospace workshop in the Expanding Your Horizons program that supports technical career development for girls.
1) What inspired you to work in STEM?
Since an early age, aviation and the space program have always fascinated me. When I started my Master of Science thesis, I discovered I enjoyed doing research in fluid dynamics and liked computer science, which is why I pursued a doctorate and then came to LANL to do research in computational physics.
2) What excites you about your work at the Energy Department?
The research and science we do at DOE National Laboratories is exciting. I enjoy working in a team environment on large projects of national importance. Further, I love the fact that the computational methods and physics-based model I develop have a broad range of applications (materials, energy, climate and medicine).
3) How can our country engage more women, girls, and other underrepresented groups in STEM?
We need to show how STEM surrounds us everywhere and how fun it is to work in STEM! It is important to ensure that girls learn about various opportunities in STEM. Participation in hands-on program like Expanding Your Horizon should be encouraged, which provides opportunities for girls to build things and do experiments in order to develop creative thinking. It is also important that their interest is sustained and that they feel encouraged. A supportive environment at home, at school and in the work place is key.
4) Do you have tips you'd recommend for someone looking to enter your field of work?
Dream big and believe in yourself. Don't get discouraged by what others say. Study hard and stay focused. Seek opportunities to discover what you like and set intermediate and long-term goals.
To enter my field, it is important to have a strong background in applied mathematics, physics and computer science. Always seek learning opportunities, get some hands-on experience and interact with people.
5) When you have free time, what are your hobbies?
I am a volunteer with the Civil Air Patrol Los Alamos Composite Squadron. As a pilot, I have flown on search and rescue missions and I help the Cadets program (youth 12-18 years old) with aerospace education. I also volunteer with Expanding Your Horizon (a STEM program for middle school and high school girls) where I lead the aviation/aerospace workshop. I also enjoy traveling, skiing, hiking, swimming and scuba diving.