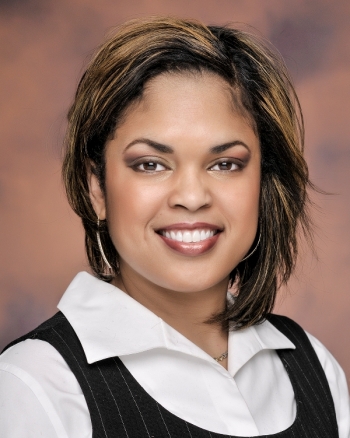 Ms. Maria Stanton is the Project Manager for Incident Management and the Joint Cyber Security Coordination Center (JC3).
Check out other profiles in the Women @ Energy series and share your favorites on Pinterest. 
Ms. Maria Stanton is the Project Manager for Incident Management and the Joint Cyber Security Coordination Center (JC3). The JC3 maintains the information security of the Energy Department's network systems and operations by examining and mitigating cyber incidents and attacks, collecting threat information, and providing awareness of potential threats and incidents to internal organizations. Ms. Stanton is responsible for the oversight and management of various products provided to the Department to enhance the Cybersecurity posture, the development of dashboards which reflect Energy Department organizational participation with the Office of the Chief Information Officer Cybersecurity programs; the development of briefings and reports for both the Director and Associate Chief Information Officer to Energy Department senior leadership; and the composition of messages to the cyber security community on various initiatives provided by the Office of the Chief Information Officer. Previously, Ms. Stanton was a Continuity Specialist for the State, Territorial, Tribal, and Local Branch for the Continuity of Operations Division, National Continuity Programs. Ms. Stanton also served in the Federal Branch as the National Continuity Programs Continuity Training Manager, and she has worked at FEMA in a number of positions including Human Resources and assistant to the Administrator. Ms. Stanton holds a B.A. in Business Communication from Rockhurst University, Kansas City, Missouri.  Ms. Stanton resides in the metropolitan Washington, DC area, in Lake Ridge, Virginia.           
1) What inspired you to work in STEM?
I have always loved mathematics.  Math was one of my favorite subjects in school even when I didn't always understand it.  I thought that I would actually go into the field of architectural engineering while studying pre-engineering during my first year in college. However, after one year into it, I quickly changed my major to Business Communications.  When I was employed with FEMA, my focus turned to national policy and guidance for emergency management, where I learned more about the importance of national security, and later grew an interest in cybersecurity.  One of the reasons I came to the DOE, OCIO was to learn more about what is involved in cybersecurity planning and how Cybersecurity really helps to ensure a secured communications environment and how that is relevant to maintaining strong national security practices.
2) What excites you about your work at the Department of Energy?
I am excited to interact with people.  I also love the challenge that may come with it.  I have always been given a challenge with every job; working with people is the greatest challenge because you are dealing with multiple opinions and diverse personalities.  Generally speaking, gaining an understanding of your clients needs, as well as communicating the importance of what you have to offer are all a part of bringing everyone on the same page to achieve one goal and I find this rewarding.  The learning experience itself, working in Cybersecurity, as a way of being actively engaged with supporting DOE's mission for preserving the nation's critical infrastructure is inspiring to me, and I am glad to be a part of it. 
3) How can our country engage more women, girls, and other underrepresented groups in STEM?
It starts in the schools.  I feel very fortunate to have many mentors and also to have had a great education, but it starts in the schools and this is a global issue.  I think that we can encourage young women that they can be whatever they want to be regardless of what walk of life they come from.  Guidance counseling is important. Teachers are role models, whether they like it or not and they have a huge responsibility to encourage young women to succeed, just as well as they encourage our young men.  Women in the workforce also need to step up the game with reaching out and being mentors and encouraging others.  I took this opportunity based on the recommendation and encouragement from a mentor.  In college, I have volunteered as a Big Sister and Student Ambassador. I love the idea of successful women taking the time to make a positive impact on another future female leader's life.
4) Do you have tips you'd recommend for someone looking to enter your field of work?
Yes, just because you may not have all the credentials that a position description requires, it does not mean you should not go for it.  If it is something that you want to do and a goal you wish to accomplish and you feel confident in achieving it, then go for it. If you have the right skill set and you know you are highly capable, make the move and don't talk yourself out it. Take advantage of training. Learn as much as you can. Continue to grow. Let the mission be something you believe in. 
5) When you have free time, what are your hobbies?
I will go to a nice jazz performance or concert. I am also a vocalist, so I spend some time in the studio and assist other musicians with their songs and seasonal performances. I also write poetry and lyrics. Family is also important to me, so I spend as much time as I can with friends and family. Of course, I am also known for getting hooked on a good sci-fi television series or going to see a great action/adventure movie!