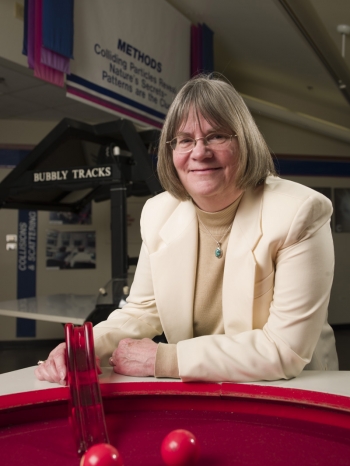 Marge Bardeen is the Manager of the Fermilab Education Office, home to the Lab's K-12 programs.
Marge Bardeen is the Manager of the Fermilab Education Office, home to the Lab's K-12 programs. Her team of creative, dedicated people develop and run education programs in strong collaboration with teachers and physicists, maximizing their time together for education. As a result she has created a wealth of programs that utilize Lab resources to meet educators' needs and pique children's interests. Marge's background is in mathematics.
She earned a B.A. from the University of Minnesota with coursework for a secondary educational certificate in mathematics from Elmhurst College in Elmhurst, Illinois, and was a parent volunteer for many years helping students learn math. Marge has taught at the middle school level and served on the Board of Education of Glenbard Township High School District #87 and the Board of Trustees of the College of DuPage. Marge was a 2009 Fellow of the American Association for the Advancement of Science. She is surrounded by a family in science - her husband Bill is a particle physicist, and her son Chuck is an atmospheric scientist and daughter Karen is a high school chemistry teacher. 
1) What inspired you to work in STEM?
I always enjoyed math and science. I was the proud owner of a chemistry set, an electric train and an erector set with a motor, gears and pulleys—pretty amazing for a girl in 1950. It was my Dad who supported me when I ventured into what was considered a boy's world. My first/second grade teacher told my parents that my strength would be in math and science. My mother, the musician, worried at first that I would be unable to have a profession. My father, the civil engineer, encouraged me, taught me, made me work to find my own solutions to homework problems. Here I am years later loving my STEM career.
2) What excites you about your work at the Energy Department?
I have the perfect job, managing the Fermilab Education Office. Of course, it is the people with whom I work, my colleagues, the Lab staff and educators, who make my job so enjoyable. The world of discovery science requires hard work and dedication but thrives on innovation and creativity. We have support from the director on down to introduce youth to the world of science and the freedom to design activities that advance K-12 STEM education and inspire the next generation of scientists.
3) How can our country engage more women, girls and other underrepresented groups in STEM?
All too often we are content to reach out to people already comfortable with STEM. Our challenge is to inspire those who are not. On a national level, let's agree on the message, work with professional societies to find trusted non-STEM heroes from the populations we want to reach and to repeat the message again and again . . . and again. On a local level, let's engage audiences with STEM. Let's go to the mall, to the movies, to places where people gather. Let's reach out to Hispanic welcome groups, Native American heritage centers and African American advocacy organizations. We can learn from our role models, providing colleagues and college students who return home with engaging activities and resources for younger children. We can make a difference when we work together.
4) Do you have tips you'd recommend for someone looking to enter your field of work?
For national lab employees and users, the most important thing we can do to advance STEM education is to work with educators. Bring them into our research communities. Listen to their needs and interests. Involve them in all aspects of our programming. Celebrate their successes. All too often we know we have the answers and only need to make sure that teachers do as we say. But advances are made when people join together to address issues and solve problems. We know this from our work in STEM! This has been our approach at Fermilab for over 30 years, and it has led to a strong K-12 STEM program that includes activities for educators, families and children.
5) When you have free time, what are your hobbies?
Depends on where I am. We have lived in the international physics community in Japan, India, Germany, Spain and Switzerland and other in countries for short visits. I always find interesting things to do—reading, gardening, genealogy, traveling, biking and hiking, learning a foreign language and more.