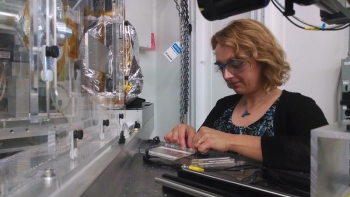 Argonne physicist Lydia Finney is developing new methods for fuels and metalloproteomics research at the Advanced Photon Source.
Check out other profiles in the Women @ Energy series and share your favorites on Pinterest.
Lydia Finney is a physicist in the X-ray Science Division at Argonne National Laboratory's Advanced Photon Source. She leads research in the area of bioinorganic chemistry. Combining X-ray fluorescence and separation science, she is developing new methods for fuels and metalloproteomics research. Finney is the author of more than 40 peer-reviewed works, which have been cited in over 800 publications.
Lydia obtained her Ph.D. in inorganic chemistry from Northwestern University as a Fannie and John Hertz Fellow. She completed her postdoctoral training in the Biosciences Division of Argonne National Laboratory. She received her B.S. from SUNY at Albany. Lydia cares about mentoring and outreach for women scientists and students, and works as part of the Women in Science and Technology Steering Committee. She is also the mother of two young, energetic boys.
1) What inspired you to work in STEM?
Science was always easy and fun for me. I had teachers from high school through college who encouraged me to continue in it.
2) What excites you about your work at the Energy Department?
I love the new challenges every day and solving problems that are important to our nation. My work is always new and changing.
3) How can our country engage more women, girls, and other underrepresented groups in STEM?
The encouragement I've received over the years from my teachers and mentors has been very influential in my life. I think it's very important for young people to hear that encouragement.
4) Do you have tips you'd recommend for someone looking to enter your field of work?
I encourage anyone considering a career in research to participate in summer internships. There's no better way to learn what research is like, and whether it suits you.
5) When you have free time, what are your hobbies?
I enjoy running and hiking.