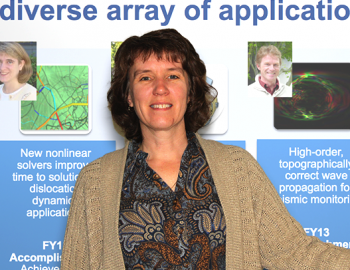 Lori Diachin is the Director for the Center for Applied Scientific Computing (CASC) in the Computation Directorate at Lawrence Livermore National Laboratory (LLNL) .
Check out other profiles in the Women @ Energy series and share your favorites on Pinterest.
Lori Diachin is the Director for the Center for Applied Scientific Computing (CASC) in the Computation Directorate at Lawrence Livermore National Laboratory (LLNL) and the Point of Contact for the Advanced Scientific Computing Research portfolio at LLNL.  CASC conducts world-class, collaborative scientific research and development in mathematics, computer science, and data science on problems critical to national security.   The Center's core competencies include high performance computing, computational physics, numerical mathematics, computer science, and data science.  In her role as CASC director, Lori manages approximately 85 applied mathematicians, computer scientists, and computational scientists.  Lori has over 20 years experience in applied mathematics research where her areas of expertise include mesh quality improvement, mesh component software, numerical methods, and parallel computing.  Before joining LLNL, Lori was a computer scientist at Argonne National Laboratory and a Member of the Technical Staff at the Sandia National Laboratories.  Lori earned her BA in Mathematics from Edinboro University of Pennsylvania in 1988 and her PhD in Applied Mathematics from the University of Virginia in 1992.
1)  What inspired you to work in STEM?
Growing up I was always fairly good at math and science in school, and I enjoyed both the challenge and the concreteness of solving problems in mathematics.   As I went through college it became increasingly clear that I was also very motivated by the application of mathematics to real world problems and so I decided to pursue graduate studies in that area.
2)  What excites you about your work at the Energy Department?
I'm excited about the fact that the work that I do facilitates solving some of the most challenging problems facing our nation.   I am currently managing a research division at LLNL, and I love knowing that I can help ensure that the group of very talented scientists in my organization has the resources and support they need to be successful.
3) How can our country engage more women, girls, and other underrepresented groups in STEM?
I believe we need to focus on engaging girls and other underrepresented groups starting at a young age to encourage them to pursue their interests in STEM topics.  This can be done by in a number of ways, but engaging parents is a critical step.  I know that in my case, the fact that my father was a college professor in mathematics was a key influence in my decision to pursue mathematics as a career.  As children grow, it is important to continue to provide fun and safe environments for them to explore their interests.   
4) Do you have tips you'd recommend for someone looking to enter your field of work?
If you love solving problems and being challenged, then explore STEM topics as the basis for your career.  For me it was important to develop a good network of supportive colleagues and mentors to give advice and help me navigate difficult situations.  Try not to second-guess yourself too much – you're very likely much better than you give yourself credit for!
5) When you have free time, what are your hobbies?
I enjoy reading novels from many different genres.  All my life, I've enjoyed creating and working with my hands in different ways, ranging from drawing and painting to making stained glass pieces and home improvement projects.  I also certainly enjoy a fine meal and a good glass of wine, hiking, biking, and being outdoors.