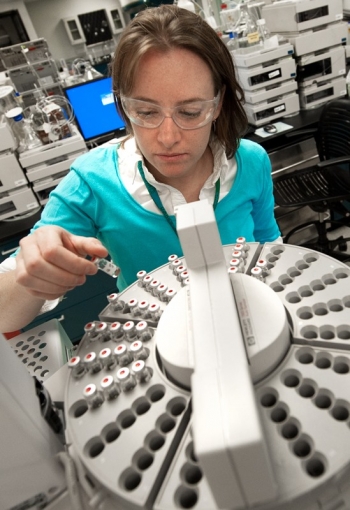 Lieve Laurens is a senior research scientist in the Bioprocess Research and Development group at the National Renewable Energy Laboratory.
Check out other profiles in the Women @ Energy series and share your favorites on Pinterest.
Lieve Laurens is a senior research scientist in the Bioprocess Research and Development group at the National Renewable Energy Laboratory. Her research focuses on analytical biochemistry; investigating ways to understand and utilize lipid, carbohydrate and protein production and composition in microalgae and other microorganisms as biofuels feedstocks. A large fraction of her time is dedicated to leading a DOE-EERE funded Algal Biomass Characterization project at the National Bioenergy Center, and coordinating research for a team of 6 researchers. As part of this work, she has recently published a set of laboratory analytical procedures, specifically tailored for algal biomass characterization. These are now freely available online  and designing and building a photobioreactor that mimics different geographical locations. Dr. Laurens recently took over the leadership of the Algae Biomass Organization's Technical Standards Committee, where she co-authored a guidance document on Industrial Algae Measurements for biomass, bioproducts and biofuels development from algae.
Prior to joining NREL, Dr. Laurens was a Research Associate and project leader at the Centre for Applied Marine Science at Bangor University, UK, where she started research on biofuels from microalgae. Dr. Laurens holds a PhD. degree in biochemistry from the University of East Anglia at the John Innes Centre for Plant and Microbial Science in Norwich in the UK for her graduate degree.
1) What inspired you to work in STEM?
I have always been extremely curious about how everything works and fascinated about what nature has to offer; I was often found in the backyard and the garage dissecting and studying plants and objects lying around. This curiosity is what was cultivated and stimulated in high-school biology and chemistry classes and made my pursue a degree in biochemistry. I always had the privilege to work with fantastic people, teachers and mentors throughout my career. I began college as a biologist in the making and quickly moved to explore biochemistry and biotechnology of plants. My graduate work was in biochemistry of corn and linking starch and sugar metabolism in the photosynthesizing leaves to day-night cycles, whereas my current research focuses still on biochemical and macromolecular accumulation of products from photosynthesis, but I have shifted to aquatic organisms, micro algae, who happen to be extremely good at photosynthesis and making oils and sugars that can be used for biofuels. Often people ask me what is my favorite part is about my research and I have to say the continuous discovery of what makes natural organisms so extremely efficient at converting sunlight into products that can help displace petroleum fuels and over time help to reduce our impact on climate change.
2) What excites you about your work at the Energy Department?
The work we do at NREL is by its very nature focused on renewable energy and in my department, displacing petroleum fuels with biomass grown for biofuels and byproducts. My research has always been at the interface of fundamental research and applying those principles and concepts in a truly applied manner to solve a small part of a major challenge, such as biofuels to displace fossil fuel usage and potentially curb the human impacts on climate change.
3) How can our country engage more women, girls, and other underrepresented groups in STEM?
I believe we, as women, have come a long way in the international research community, though I still think that there are preconceived ideas among children on what scientists do, what they look like and what they can achieve. With more exposure of children to short, hands-on experiences, letting female scientists knock their socks off, we could get more students inspired to pursue STEM degrees. We, at NREL, try to engage many visitors and do as much outreach as we can, but still I would love to see more women represent the decision-making positions in research and development programs. Providing more tools, resources, opportunities can go a long way in recruiting the best researchers in our field.
4) Do you have tips you'd recommend for someone looking to enter your field of work?
Passion is the shortest answer to this question, there are so many aspects about science and especially biochemistry that remain to be uncovered and often the only way out of a research dip or impasse is the passion, fascination and drive to continue. So anything we can do to light the fire in young women and girls about science can really make a difference. What helped me tremendously throughout my career is internships in a bunch of different laboratories and moving around. This is the best way to get an idea of what makes a good project, a good mentor and a good environment to work in. I try to give back to the new generation of researchers by mentoring several undergraduate interns every year and give them the experience and appreciation for the work and the difference we can make as scientists. 
5) When you have free time, what are your hobbies?
I try to get out of the city when I can, and the Colorado mountains and southern Utah red rocks are very welcoming when I do. I enjoy being outside, often on a mountain bike, the fresh air, nature and sunshine always charge me up and inspires me to continue doing what I can to help change the energy landscape and protect our valuable natural environment.