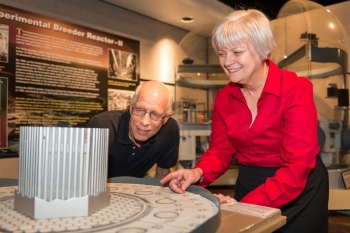 Laural Briggs is a nuclear engineer at Argonne National Laboratory, where she has worked since 1977.
Check out other profiles in the Women @ Energy series and share your favorites on Pinterest.
Laural Briggs is a nuclear engineer at Argonne National Laboratory, where she has worked since 1977. Her responsibilities during her 35 years at Argonne have included modeling and simulation of fast reactor designs, fast reactor severe accident analysis, radioactive waste repository analysis, fissile materials management, infrastructure vulnerability assessment, and benchmarking of fast reactor analysis codes. She spent eight years in management – seven as a group leader and a section manager of nuclear reactor analysis sections, plus eight months as the interim deputy director of Argonne's Leadership Computing Facility. She earned her doctorate in nuclear engineering from Northwestern University in 1978. She is a member of the American Nuclear Society and has served in various governance positions in the society.
1)      What inspired you to work in STEM?
I frankly could never see myself working in any other type of area. My favorite subjects in school, from first grade onward, were math and science classes, and they were the subjects I did best in. The fact that I entered school at the time that the US space program was growing and of keen interest to grade school students also made scientific fields look especially attractive.
2)      What excites you about your work at the Energy Department?
I feel great about working in the research end of the nuclear energy field. Nuclear power has been a workhorse of the electric power industry for 50 years and is a key element in supplying the world's future electricity needs, so having the opportunity to work at Argonne, as part of a strong team of nuclear engineering researchers, on development and deployment of advanced nuclear reactor designs lets me contribute to the well-being of future generations while addressing technically interesting and challenging issues.
3)      How can our country engage more women, girls, and other underrepresented groups in STEM?
Engaging people in any career field comes down to making the field look attractive. If people are familiar with what goes on in a field, see job opportunities for themselves in the field, and see the field as paying good salaries, they will naturally gravitate towards that field. STEM careers in general suffer from being poorly understood by the general public and poorly showcased to the public. In addition, there is the historic perception that STEM careers are "for men only". Improving the teaching of science and mathematics at the intermediate and middle school grades, plus introducing students at these grades to a broad range of women and men who work in STEM careers, would help to dispel the "girls aren't good at science and math" myth and establish the groundwork for then showcasing to high school students the interesting work, job opportunities, and good salaries that STEM careers offer. The huge annual responses to Argonne's Introduce a Girl to Engineering Day program for eighth-grade girls and Science Careers in Search of Women program for high school girls clearly demonstrate that the interest in STEM fields among K-12 girls is out there – it just needs to be nurtured and supported.
4)      Do you have tips you'd recommend for someone looking to enter your field of work?
Prior to entering college, take as many courses in mathematics and science as possible. Once in college, major in a STEM field and take advantage of co-op programs and summer internship opportunities at national laboratories and industry – these can be really helpful in eventually choosing among career focuses (research, teaching, applied) and fields. And regardless of university major, take classes in a range of departments – most career paths will move through several areas of specialization, particularly as new fields open up, and the broader the range of subjects someone has taken, the better positioned they will be to move into new opportunities.
5)      When you have free time, what are your hobbies?
I love to read mysteries and historical fiction. I'm an avid sports fan (Chicago White Sox, Bears, Blackhawks, and Bulls), and I love spending time with my husband watching at home or attending any games that we can. I also enjoy gardening, and I treasure any opportunities to spend time with my two children, who are now young adults and whom I see only occasionally.