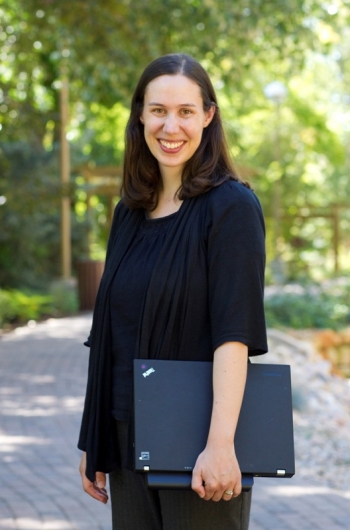 Kristine Montheith is a computer scientist at Laurence Livermore National Laboratory. Photo from BYU News.
Kristine Monteith completed a BS in Music Therapy at Utah State University and an MS and PhD in Computer Science at Brigham Young University.  Her dissertation was titled "Automatic Generation of Music for Inducing Emotive and Physiological Responses."  She currently works as a computer scientist in the Global Security Computing Applications Division at Lawrence Livermore National Laboratory.
1) What inspired you to work in STEM?
My undergraduate degree is in music therapy.  I loved studying the music therapy curriculum, and I loved working as a music therapist, but I had a little trouble finding a full time job after graduation.  (I found three part-time jobs, actually, and together they made one pretty decent full-time job, but I didn't think that was the best long-term career plan.)  So I went back to school to learn about computers, mostly as a way to subsidize my work as a music therapist.  
I was a little surprised when I found out that, as a career, I liked computer science better.  From a terribly practical standpoint, it was easier to get a job in computers than music, and computer jobs tended to pay better.  But I also found it satisfying to work on problems that had more definite solutions.  I was worried that working in computer science wouldn't allow as many opportunities for creative thinking or social interaction, but that is certainly not the case in my current assignment.  Having a full-time job in computers and using my music therapy training to teach my daughter and do volunteer work in the community has been a really nice way to balance my different interests.
I'm still really glad I majored in music, and if I had to do it over, I would do it again.  But getting a PhD in computer science was the best career I could have made.  I love my job!
2) What excites you about your work at the Energy Department?
I get to research some really interesting and academically challenging problems.  I enjoy being able to contribute to national security and feel like the work I do makes a difference.  Also, I have the most amazing supervisors and co-workers. Every day, I get to associate with brilliant and fascinating people. It's a privilege to work with them.
3) How can our country engage more women, girls, and other underrepresented groups in STEM?
My parents did an excellent job of encouraging me. They gave me lots of opportunities to explore and learn about a wide variety of topics. Science and math were heavily emphasized; it wasn't a completely forgone conclusion that I would go into a career in those areas, but I grew up thinking it was a definite possibility.  So I guess I would recommend exposure to lots of fun learning opportunities and exposure to people who think it's normal for girls to like science and math.
4) Do you have tips you'd recommend for someone looking to enter your field of work?
Stick with it. Even though I'd had some exposure before I started studying it formally, programming still felt a little foreign at first. And my Freshman programming class was filled with people for whom programming, playing with, and fixing computers had been one of their main interests for most of their lives. I didn't understand some of the questions they were asking, much less the answers. So that gave me second thoughts about my new major.  But things felt much easier and more natural to me as I got further in the program.
5) When you have free time, what are your hobbies?
I work full-time, I have an adorable and adventurous two-year old daughter, and I'm expecting another little girl in June.  In the very little free time I have, I'm a big fan of catching up on sleep.  But I also enjoy running, dancing, playing the piano, and singing.