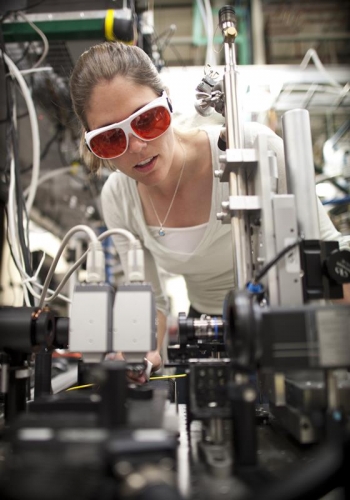 Kirstin Alberi is a Senior Scientist at the National Renewable Energy Laboratory.
Check out other profiles in the Women @ Energy series and share your favorites on Pinterest.
Kirstin Alberi is a Senior Scientist at the National Renewable Energy Laboratory.  Her research is focused on understanding and controlling the properties of semiconductors for next generation energy efficient and renewable energy technologies.  Kirstin received a B.S. in Materials Science and Engineering from the Massachusetts Institute of Technology and an M.S. and Ph.D. in the same subject from the University of California, Berkeley.
1) What inspired you to work in STEM?
My parents are both engineers, so my brother and I were exposed to technical fields from an early age, and we were encouraged to take on our own engineering projects.  That support from my family was a major reason that I pursued a career in science.
2) What excites you about your work at the Energy Department?
I research new materials for photovoltaic and solid-state lighting applications.  The ability to work as part of a team to develop technologies that will impact the way we generate and use energy is a great benefit of working at a National Laboratory, and it also provides an opportunity to constantly learn from experts across a range of disciplines.
3) How can our country engage more women, girls, and other underrepresented groups in STEM?
Helping students understand how the fundamentals they learn in science and math classes can be applied in the real world is a good start toward encouraging an appreciation for STEM. Connecting them with mentors and people who actually work in these fields, through school programs, internships and other avenues, can also give them a better picture of whether a STEM-related career is right for them.
4) Do you have tips you'd recommend for someone looking to enter your field of work?
Above all, be persistent and have confidence in your abilities.  You will undoubtedly encounter problems that seem impossible to solve at first but are surmountable with some determination and effort.  Also, surround yourself with truly excellent people and actively seek out opportunities to grow professionally.
5) When you have free time, what are your hobbies?
I enjoy doing anything outdoors, but swimming, hiking and playing golf are some of my favorite hobbies.