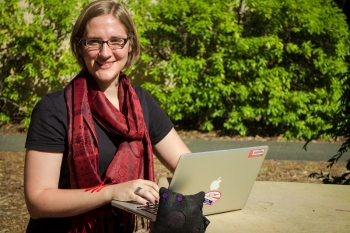 Kristi Schneck, a graduate student at the Stanford Department of Physics, SLAC National Accelerator Laboratory on the SuperCDMS Collaboration, grew up in Fergus Falls, a small town in western Minnesota.
Check out other profiles in the Women @ Energy series and share your favorites on Pinterest.
Kristi Schneck, a graduate student at the Stanford Department of Physics, SLAC National Accelerator Laboratory on the SuperCDMS Collaboration, grew up in Fergus Falls, a small town in western Minnesota.  Kristi attended the Massachusetts Institute of Technology, where she earned bachelor's of science degrees in physics and music.  Currently she is a graduate student at Stanford University, working with the Cryogenic Dark Matter Search (CDMS) group at SLAC National Accelerator Laboratory.  My research focuses on looking for signals from interactions between hypothetical dark matter particles and normal matter using the CDMS detectors.  Most recently, Kristi was part of a team that analyzed low-energy CDMS data and set limits which exclude hints of a possible dark matter signal claimed by several other experiments.
1) What inspired you to work in STEM?
The first thing that drew me to physics was how fundamentally weird it is.  I remember reading about relativistic time dilation—the fact that time appears to slow down for objects traveling near the speed of light—as part of my high school physics class and being struck by how strange it was that the world works that way.  Through solving a lot of problems in my college physics classes, I developed a deep appreciation for the power of science to describe the way the world works.  However, as I've progressed in my graduate work, I've also come to realize just how much we don't know.  The mysteries that we know are still out there are what I find most inspiring about my work in STEM.
2) What excites you about your work at the Energy Department?
My work with the Cryogenic Dark Matter Search lies at the intersection of three areas of physics: astrophysics, particle physics, and solid state physics.  We're trying to solve one of the most important outstanding problems in particle and astrophysics: what is the 85% of matter in the universe that isn't made of the usual protons, neutrons, and electrons, which we call "dark matter."  We do this using solid state germanium detectors to search for very rare collisions between hypothetical dark matter particles and normal matter.  Being at the forefront of science and working to solve one of the universe's great mysteries is incredibly exciting.
3) How can our country engage more women, girls, and other underrepresented groups in STEM?
I think this issue is actually two-fold: first, not enough women and underrepresented minorities are starting down the path to a successful career in STEM, and second, members of these groups leave the STEM career track in much larger numbers.  The first can be combated by changing the popular perception that all people working STEM fields are either stereotypical mad scientists or Sheldon Cooper from The Big Bang Theory.  Projects such as this one, which bring attention to scientists of all stripes, can further this end. 
The second problem, the so-called "leaky pipeline," is much more subtle and difficult to combat.  One part of this complex issue is the culture of STEM fields, which can sometimes encourage single-minded dedication to a person's work at the expense of other aspects of his or her life.  This kind of environment can disproportionately discourage women, who on average have more conflicts with family responsibilities, as well as anyone who values a balanced life.  Since this attitude is ingrained in the culture of STEM to varying degrees and is not the fault of any individual or organization, solutions will be complex and difficult.  However, I think the first step is to start conversations about the issue so people are aware of the need to promote work-life balance.  In addition, policies which support new mothers and all working parents will help level the playing field for many people who place equal value on family and career.
4) Do you have tips you'd recommend for someone looking to enter your field of work?
I've found it helpful to know what kind of environment allows me to do my best work, and to set boundaries that let me live a balanced life.  Personally, I am happier and produce better work when I reserve my weekends and a few weekday evenings for other pursuits.  Taking breaks to think about other things allows me to return refreshed and with a new perspective to my scientific work.
5) When you have free time, what are your hobbies?
Currently I sing with the Stanford Chamber Chorale, a select ensemble of 24 Stanford undergraduate and graduate students which is dedicated to performing a cappella choral works from the Renaissance to modern times.  As the face of Stanford's choral program, the group tours nationally and internationally, so over the past few years I've had the opportunity to sing in places ranging from centuries-old cathedrals in England to bustling shopping malls in Thailand.  I also enjoy baking (my next goal is to make a successful French macaron) and reading novels.