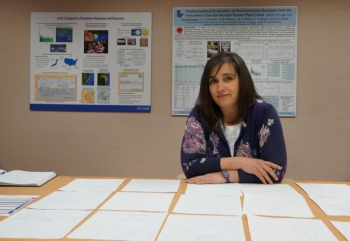 Kim Budil is the Nuclear Counterterrorism Program Manager in the Global Security Principal Directorate at LLNL.
Check out other profiles in the Women @ Energy series and share your favorites on Pinterest.
Kim Budil is the Nuclear Counterterrorism Program Manager in the Global Security Principal Directorate at LLNL. Prior to assuming this role Kim was a Senior Adviser to the Under Secretary for Science at the Department of Energy, providing technical assistance on matters related to the NNSA and other national security matters. She also managed a substantial computational and experimental fundamental research program at LLNL. Kim spent two years at NNSA headquarters in Washington, D.C. supporting the Office of Defense Science. She has long been active in efforts to improve the diversity of the ST&E workforce, serving on the Committee on the Status of Women in Physics of the American Physical Society and leading a number of efforts at LLNL. She has a Ph.D. in Applied Science/Engineering from University of California, Davis and a B.S. in Physics from the University of Illinois at Chicago.
1) What inspired you to work in STEM?
I've always enjoyed math and science but didn't really decide to devote myself to physics as a career until I was in college. My initial intent was to go into the law and pursue a career in government. However, I was given some very wise and prescient advice to get a technical undergraduate degree, since this would give me a unique and valuable skill set. I settled on physics since it had been my favorite science class in high school. It seemed, like me, to be very practical and to truly show the usefulness of math. Once I got started in college I was hooked. Nothing else was as challenging, interesting and rewarding, although I pursued coursework in everything from Russian literature to social science. With only a few basic principles and a handful of equations you can derive a very rich picture of how the world works. Amazing!
2) What excites you about your work at the Energy Department?
I am very excited about being involved in cutting edge science and technology as well as making an impact on our most important national security challenges. I get to help our scientists and engineers pursue important research and development, create innovative solutions to real problems and then see those solutions get used out in the field. I love that I get to work with amazing, talented people and can see the impact our work is having every day.
3) How can our country engage more women, girls, and other underrepresented groups in STEM?
I think there are three important components to this. We must first impress on everyone how essential STEM is to our everyday lives. Our society is so dependent on technology that you can no longer pursue any career without this background. Second, we need to provide positive role models of scientists and engineers, especially women and minorities. We are real people, with lives and families and hobbies and our work is very rewarding and fun. Finally, I believe strongly we need to ensure that the senior leadership reflects the diversity of our community. Women and minorities in leadership positions are a crucial part of building a truly inclusive and welcoming environment for all in STEM.
4)  Do you have tips you'd recommend for someone looking to enter your field of work?
Be open to opportunities; most of life is more luck than design. Build a network of people to support you through good times and bad. Take time to celebrate your successes and others. Find a problem you are truly interested in and work hard at whatever you pursue. And finally, seek out and really listen to constructive feedback but never let anyone tell you you're not good enough.
5) When you have free time, what are your hobbies?
I have two teenaged sons so a lot of my free time consists of watching soccer, baseball and lacrosse games, playing board games with my family and doing projects around my house (I am an experimentalist by temperament and training after all!). I love to cook and entertain. I read a lot (mystery novels, history and biographies are current passions) and love to go to the movies.