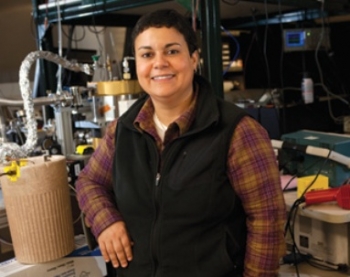 Kawtar Hafidi is an experimental physicist at Argonne National Laboratory, studying how fundamental particles, namely quarks and gluons, form nucleons and nuclei.Photo from Crain's Chicago Business.
Check out other profiles in the Women @ Energy series and share your favorites on Pinterest. 
Kawtar Hafidi is an experimental physicist at Argonne National Laboratory, studying how fundamental particles, namely quarks and gluons, form nucleons and nuclei. Kawtar completed her bachelor degree in theoretical physics at Mohammed V. University in her native country, Morocco, in 1995. One year after receiving her undergraduate degree, Kawtar earned a master's degree in nuclear physics from the prestigious Paris Sud University in Orsay, France. Kawtar went on to the Nuclear Physics department in the French Atomic Agency at Saclay, in France, where she earned her PhD. Since receiving her doctorate, Kawtar has been a leading researcher at Argonne National Laboratory, "asking philosophical questions, addressing technical fields in detector and software development." 
1) What inspired you to work in STEM?
In Morocco in the ninth grade you have to decide if you'll do science or literature. And there's no going back. I wanted to do literature, but my dad was against it. He said, "What will you do with literature? It's not useful to the country. Since you are good at everything, you should do science." So he convinced me, and I went ahead with science, because I thought I could help my country this way. So I started mathematics and physics in university.
My dad's investment in my education was critical to my STEM career. Neither of my parents graduated from high school. At that time in Morocco it was not uncommon; many people would reach the 12th grade and leave, because under the French occupation, you had to leave the country to go to college. However, I did well at school, and my dad was proud of that. He was not rich, but he insisted on paying for private school. This gave me a head start, because it's much more serious. It was hard for him, but he did; for him, education was very important.
And as for me, I loved school. I always wanted to stay longer. I used to love writing, in both French and Arabic, and I was also good at math. I used to spend my summer doing complicated math problems. One day at school the teacher asked me why I didn't do my homework. I said, "I don't want to." He asked me why, and I said, "Because I'm afraid they will be finished!" We didn't have many books at that time, so I'd find one book and do just one problem a day, like eating a cake, you know—you don't want to be finished.
2)  What excites you about your work at the Energy Department?
I am a member of the medium-energy physics group, studying nuclear physics, the fundamental science of nuclear forces. The nucleus is my lab and I am fascinated by subatomic particles and the forces that hold them together.
In the field of nuclear physics, we still need to understand a lot. We have quarks, which are the smallest particles—there are no particles inside them, as far as we know. From those quarks, which we can't see as individuals in nature, how do they form the matter that we see? How do we form protons and neutrons? And more importantly, how do we form nuclei? What's the lifetime of a quark? Does it vary according to the type of quark?
We cannot study quarks alone; they are always inside something, which makes it very complicated. My colleagues and I have discovered new evidence of color transparency, a phenomena in which a hadron—a bound state of quarks such as a proton or neutron—forms an exotic, very short-lived state that is invisible to other matter. While more measurements are necessary to fully understand these exotic states of matter, I am excited about the discovery and its implications for the formation of matter.
It's what is called fundamental research. People ask you, "What's the implication? What's the use?" When we start looking at quantum mechanics, it's abstract. But if we didn't understand quantum mechanics, we would not be able to understand chemistry. The same is certainly true for quantum chromodynamics. When you understand things, many applications naturally come up. The quest for knowledge and discovery excites me. The more we understand, the more we can do.
3) How can our country engage more women, girls, and other underrepresented groups in STEM?
I think have role models and mentors is very important. It is much easier for someone to see themselves as a STEM professional if there is someone that they can identify with, relate to. It is an important aspect of what draws people to their chosen profession.
I also think work life balance is another important element. For instance, in Morocco the number of women scientists is larger than the U.S. in proportion, but perhaps they have more female scientists because the research in Morocco is not that demanding. Most of the research is done at universities, and I think women want to be professors because it's flexible. They teach maybe four hours a week, and then nobody asks them where they are. They demand less time and work from scientists. If Morocco became very demanding like the U.S.—you have to work so many hours, you have to be away from your family, you have to make choices whether or not to have children at a specific time—I think Morocco would have the same hard time having women in those positions. So I think that's the major difference.
In France, I think the numbers are a little bit better than the U.S. In France when women have children, they can get 16 weeks for the first and second child and 26 weeks for the third with pay and up to two years without pay. Even vacation: men and women get two months' paid vacation. The social part is very important.
4) Do you have tips you'd recommend for someone looking to enter your field of work?
Follow your passion. It is hard work but you can do it. Learning is a journey and a constant process. Once you find your niche, you'll know it – you'll feel that what you are doing is not just work, because it doesn't stop. I go home, but I don't stop thinking about science. Sometimes I wake up at 3 a.m. and can't sleep and have to do my work. In the shower I'll think of something and have to go write it down. So it's non-stop. It's a way of life. It's really not a job. Sharing your knowledge is also very important.
5) When you have free time, what are your hobbies?
Other than spending time with my family I play soccer. Actually, when I was around 16 and 17, I was almost a professional soccer player. At that time they started building the national Moroccan women's soccer team. I didn't get a chance to play a lot with them, but I was part of them. But when you're studying, you know, you just don't have enough time. Now I play tennis, ping-pong, pool, and more importantly, fishing is my thing. Anytime there's good weather, I go. And I fish at night, to catch the big fish - flathead catfish, bass, walleye, big carp. I am also preparing my black belt in mixed martial arts.