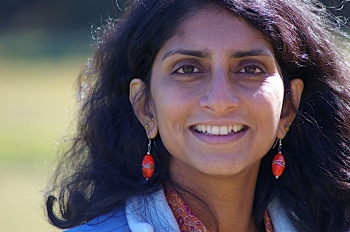 Kavita Ravi is an American Association for the Advancement of Science (AAAS) Fellow at the Office of Policy and International Affairs (PI).
Check out other profiles in the Women @ Energy series and share your favorites on Pinterest. 
Kavita Ravi is an American Association for the Advancement of Science (AAAS) Fellow at the Office of Policy and International Affairs (PI). She chairs the Award- and Procurement- related activities in the Super-efficient Equipment and Appliance and Equipment Deployment (SEAD) initiative of the Clean Energy Ministerial. She is also responsible for strengthening the private sector engagement in SEAD activities. Prior to the AAAS fellowship, Kavita completed the "Leading Clean Energy Ventures" executive program with the New England Clean Energy Council and Boston University and worked with early-stage clean energy ventures in the Boston area. Kavita has 12 years of private sector experience in the Electronic Design Automation industry, leading algorithmic innovations and advanced development of software products with multi-million dollar revenues. She received a Doctorate in Computer Engineering from the University of Colorado.
1) What inspired you to work in STEM?
I grew up in India – lot of focus there on starting math early and getting kids proficient in it. This served as a strong foundation through the years. Math was always easier for me than the language arts. I decided I would go into a STEM program in college because it had more job opportunities and would offer higher pay. That really drove my decision, but it was also aided by the fact that STEM came easily to me. 
I decided to challenge myself after college and get a PhD.  Then I worked in industry for commercializing the technology of my doctoral degree. I put a lot of time into this and wanted it to succeed. After 12 years,  I decided to work in clean energy as the next step in my career. This wasn't a STEM career move that was driven by economics for me, but by my heart. 
2)  What excites you about your work at the Energy Department?
I started looking into clean energy ventures and entrepreneurial ideas. I wanted to start a new company or team with others. As I started exploring the space, I found that there was a lot of regulatory influence and subsidies that impacted the business. I also applied to the AAAS Fellowship. Coming to work at the Energy Department lets me learn so much more deeply about regulatory and policy framework, and it's been a fantastic experience. 
3) How can our country engage more women, girls, and other underrepresented groups in STEM?
I feel strongly about this, and have a passion to do something about this. It is important to start really young with kids to get them interested, playing and working in STEM. We should not let prejudices like "math is hard" sneak in and squash those at an early age. We can think consciously about this in the education system, and focus on making it interesting and fun in preschool and elementary school with experiments. What happens in science clubs should be mainstream curriculum. Here at the Energy Department, it is important to open our doors and do more public events – demonstrate we're doing good work to all sections of society. Just as we justify ourselves to Congress, I believe it is important to have a polished image with the public. We need to communicate that it can be fun and not daunting. We should create access for the layperson.
4) Do you have tips you'd recommend for someone looking to enter your field of work?
Get out there, talk to people, do a lot of homework and work hard. Learn a LOT about your field and soak it all in. In having to write a case for why you are appropriate for a job you need to have the appetite to research the organization's work – read their website, go to their conferences, read all their documents, pore over presentations. Plow through it, after time it will make sense, you'll make patterns and connections, and a story line appears.
5) When you have free time, what are your hobbies?
I probably work too hard! I have a four year old and a six year old, and spend lots of time with them. I enjoy working on new ways to explain simple concepts in math to make it exciting to kids. Putting things in a fun context. Sometimes this means activities, like visiting the Air and Space Museum and other Smithsonian museums. Also, I try to read as much as possible.