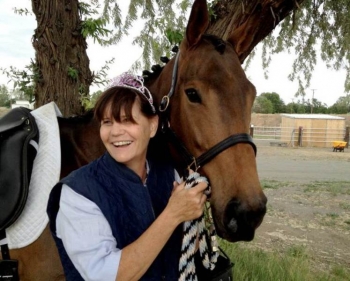 Shortly after arriving at Pacific Northwest National Laboratory, Dr. Kathy Hibbard purchased a young thoroughbred mare. Here, she is pictured at a birthday party thrown by her stable buddies.
Check out other profiles in the Women @ Energy series and share your favorites on Pinterest. 
Dr. Kathy Hibbard at Pacific Northwest National Laboratory is a manager specializing in bringing groups together for new and creative solutions to issues in the human/environment and climate systems. She is known for her expertise in the impacts of human activities on terrestrial biogeochemical cycles and their interactions with the climate system. At PNNL, she is Chief Scientist for the Platform for Regional Integrated Modeling and Analysis initiative. The initiative addresses how to simulate complex interactions among climate, energy, water, and land at decision-relevant spatial scales. Kathy contributed to the experimental design of carbon cycling for the 5th assessment report for the Intergovernmental Panel on Climate Change. Dr. John Holdren, Assistant to the President for Science and Technology and Director of the Office of Science and Technology Policy, commended her leadership on Climate and Energy-Water-Land System Interactions, which supports the U.S. 2013 National Climate Assessment. Kathy earned her Ph.D. at Texas A&M University. At the university, she examined the consequences of management practices on woody plant encroachment. Kathy is a strong supporter of the American Geophysical Union (AGU). The AGU promotes the science of Earth and space. She is finishing a 3-year term as chair the fall meetings program committee, which coordinates and develops the well attended and international AGU meetings in early December.
1) What inspired you to work in STEM­­?
I was not a typical scientist in training as a youth. I was primarily a musician, and trained to enter that world until I began to enjoy the outdoors through hiking and engaging in a lifelong passion with horses. As an undergraduate, I developed a keen interest in understanding the response of natural systems to human activities and climate. I particularly enjoyed learning about how simple equations in models can capture the often dynamic and complex behavior of ecological systems. Unraveling the complex nature of ecological and human systems and, knowing that by doing so, we also can discover some solutions to overcoming technological challenges and societal problems are what inspire me to work in STEM.
2) What excites you about your work at the Energy Department?
Working in a Department of Energy lab translates into the ability to think outside the box, to engage communities and develop programs that are of national significance. Pacific Northwest National Laboratory has an extremely collaborative environment that encourages teamwork and cross-disciplinary support. I am inspired by the willingness of scientists across directorates within our lab and outside our lab to work together on common visions and goals. Only a national lab such as PNNL can undertake the grand challenges and engage multidisciplinary teams that are needed to address today's challenges.
3) How can our country engage more women, girls, and other underrepresented groups in STEM?
I think the most important component of engaging more women, girls and underrepresented groups in STEM is through our educational system, especially breaking down the walls of stereotypic careers for men versus women. While it may be important for young women in science to build camaraderie amongst themselves, it is equally important for them to be engaged and evaluated equally with their peers. Sometimes this means an extra effort on the part of our educators to encourage participation, sometimes this means that professional men and women in science also engage with young students across gender and race to provide leadership and role models. Even simple activities such as outdoor science and ecology field trips can open minds and doors to the beauty of science in the world around them.
4) Do you have tips you'd recommend for someone looking to enter your field of work?
It is so important to follow your heart and your brain. Don't be afraid if you think something is hard, like math. Try and take it one step at a time so you're not overwhelmed. If you've ever looked up at the sky and wondered why it's blue, why the grass is green, then you are well on your way! Learn what you are good at and don't try to be something you're not. We all have gifts and can make the world a better place!
5) When you have free time, what are your hobbies?
Shortly after my arrival at PNNL, I purchased a young thoroughbred mare who had never been raced. Together, we are progressing nicely in the art and science of dressage. I spend most of my spare time at the barn and walking my dog, Mica, along local trails and canals.