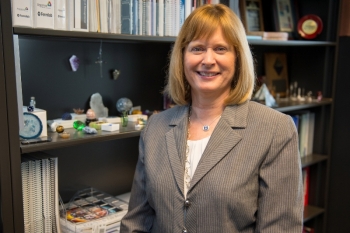 Dr. Kathleen Carrado Gregar is the Manager of User & Outreach Programs at the Center for Nanoscale Materials at Argonne National Laboratory.
Check out other profiles in the Women @ Energy series and share your favorites on Pinterest. 
Dr. Kathleen Carrado Gregar is the Manager of User & Outreach Programs at the Center for Nanoscale Materials at Argonne National Laboratory. She is responsible for the development of strategic alliances and collaborative partnerships with academia, industry, and the user community at large, manages user programs administration, and manages the Center's outreach and public relations efforts. After attaining her Ph.D. in inorganic chemistry from the University of Connecticut, Katie came to Argonne as a postdoctoral associate in the Chemistry Division. Katie was inducted as a Fellow of the American Chemical Society in 2012, recognizing her extensive years of experience as a productive research chemist in nanocatalysis and nanocomposites, as well as her effective management of user and outreach programs at a Department of Energy Nanoscale Science Research Center. She has authored over 60 peer reviewed papers, 7 book chapters, 3 books, and  has 5 patents.  Katie has served in governance positions for the American Chemical Society's Energy & Fuels Division as their Chair, Program Chair, and as an ACS National Councilor.  She is now the Education & Outreach Chair for the Energy & Fuels Division. She has served on advisory boards for the Clay Minerals Society, for a Gordon Research Conference, and the editorial boards of several journals. In 2006 she was presented with a DOE Office of Science Undergraduate Research Programs "Outstanding Mentor" Award.
1) What inspired you to work in STEM?
A life-long obsession with math sent me to college.  I'd always been madly curious about the natural world as well -- astronomy, geology, paleontology, you name it -- but had no idea until college that one could actually make a love for science a career (other than teaching). Once that realization hit me, I changed colleges, and majors, from accounting to geology.  A critical mentor in college, one of my chemistry professors, was pivotal in the decision to make a career of research in chemistry.
2) What excites you about your work at the Energy Department?
I firmly believe that what I do, what my colleagues do, and what Argonne National Laboratory does, contributes in an invaluable and permanent way to the national good. Our basic sciences and engineering discoveries are often eventually translated into advances for our citizens in energy security, national security, information technology, and health. This is one way that a person's patriotic ideals can be realized. Another enticement was the ability to make use of our country's premier scientific instruments. Nowhere else can you find multi-million dollar synchrotron radiation light sources, nanotechnology centers, accelerators, neutron scattering facilities, and electron-beam microcharacterization centers, many of which can be on one laboratory campus!
3) How can our country engage more women, girls, and other underrepresented groups in STEM?
To engage more women, changes could be made that help alleviate the often excruciating decision for many of when to start their families. This includes institution of, and cultural acceptance of, new policies in benefits such as insurance, maternity/paternity leave, childcare, flexible hours, etc.
I see many girls and young women with a passion for STEM.  When it's time for them to commit to a career, they weigh very practical considerations such as income, job availability, and working environment. I think information and guidance at these critical junctures has a tremendous impact.
4) Do you have tips you'd recommend for someone looking to enter your field of work?
I recommend getting as many experiences as possible in STEM, be they courses, workshops, teaching, internships, fellowships, research projects, part-time or short-term jobs. The networking is invaluable, and so is the awareness of the variety of jobs that exist. I also recommend finding mentors, people you respect with similar values, and with ideas and guidance that makes sense for you. When you find people like that, make them a part of your life forever.
5) When you have free time, what are your hobbies?
Volunteer efforts are devoted to chemistry education/awareness at the elementary school level, and I've edited a monthly column called "ChemShorts for Kids" since 1992.  One of my lifetime goals is to hike in every U.S. National Park.  I still collect rocks, gems, and minerals -- my fascination with them will never cease!