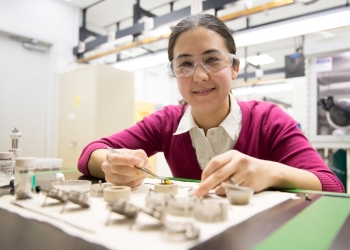 Karena Chapman assembled advanced battery materials into sample holders that can be placed in a detector at the Advanced Photon Source at Argonne National Laboratory where high-energy X-ray beam will reveal the structure of the chemical elements.
Check out other profiles in the Women @ Energy series and share your favorites on Pinterest. 
Karena Chapman is a chemist and the lead scientist operating the world's leading pair-distribution-function X-ray beamline. She also is the youngest scientist at Argonne National Laboratory to be charge of the beamline. In this role, she is responsible for helping hundreds of scientists and students from across the U.S. and the globe use this unique tool to measure the distances between pairs of particles contained within a given volume. This information is key for researchers working to design more efficient or environmentally friendly batteries, pharmaceuticals, fuel cells, solar cells, industrial catalysts, and nuclear energy. Karena's research has led to a patent for a new type of nanoscale molecular trap that makes it possible for industry to store large amounts of hydrogen in small fuel cells or capture, compact, and remove volatile radioactive gas from spent nuclear fuel in an affordable, easily commercialized way. She also has license agreements pending for a more efficient system to test advanced battery cells for researchers working to improve hybrid and electric vehicles and enable the national grid system to utilize more solar and wind power.
Karena came to Argonne in 2005 as an Arthur H. Compton Postdoctoral Fellow after completing an undergraduate degree and Ph.D. in chemistry at the University of Sydney, Australia. Her work has involved developing porous materials (molecular-scale sponges) for gas storage applications and exploring how some materials shrink when heated, an unusual phenomenon known as "negative thermal expansion".
1) What inspired you to work in STEM?
I have always been curious about how and why things around me function. Understanding how and why things work is the first step in developing something that works better - like a longer lasting battery.  This interest in understanding how the world works led me towards the sciences.
2) What excites you about your work at the Energy Department?
I am part of a multidisciplinary team of highly experienced scientists and engineers. Unlike in academia, where you might be mainly advising postdocs, here everyone is doing hands-on science. You have people that have been working in the field for 20 years. There is a wealth of knowledge. With such a team of experts, we can work together to devise creative solutions to challenging and ambitious problems.
More specifically, I work at the Advanced Photon Source – an X-ray facility run by the Energy Department that is used by scientists from across the United States and around the world. A new team of scientists arrives every couple of days to explore a different problem using the one-of-a-kind instrument that I run. In this way I am exposed to a diverse range of cutting-edge science spanning solar energy and batteries, to pharmaceuticals and petrochemistry. As the person with the most experience working with this specialized instrument, I can undertake the most challenging experiments and develop new tools.
3) How can our country engage more women, girls and other under-represented groups in STEM?
It is not always clear how what we learn at school as science relates to problems in the world in which we live. Programs which provide girls with a hands-on discovery experience and an understanding of how what they learn can be used to address new problems and to devise creative solutions is important for demonstrating why STEM matters and for inspiring the next-generation of STEM professionals. A lot of what I do is basic research, but you can still see a link to how it can help society.
4) Do you have tips you'd recommend for someone looking to enter your field of work?
It's important to take advantage of diverse experiences and seek out new opportunities. In this way, you can discover what field is a good fit for you and, just as importantly, what is not. Even if you chose not to pursue a particular field or opportunity as a future career, the experiences you gain will better equip you to face other challenges and problems.
It is hard to know at the outset what field will suit you best. In school and college I would not have predicted that I would end up this field - I didn't even know this field existed. It was a matter of chance that I first went to a facility like the Advanced Photon Source after another graduate student pulled out. It was no accident that after that, I sought out opportunities to continue this type of work.
5) When you have free time, what are your hobbies?
I enjoy photography, I like to bake (aka edible chemistry) and I am about to start the third iteration of my vegetable garden experiment.